5104e PCIe Serial Interface offers data transmission rate of up to 10 Mbps.
Press Release Summary: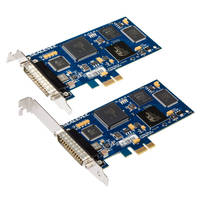 Suitable for radar, telemetry and wide area network connectivity applications, 5104e PCI Express Synchronous Serial Interface is configurable for RS-232, RS-422, RS-485, RS-530 and RS-530A. Equipped with Z16C32 IUSC with built-in DMA controller and 32-byteFIFO buffer, unit features 256K bytes of onboard RAM. Compatible with standard profile PCI Express slots, product comes with DB25M board connector. Adapter meets RoHS and WEEE standards.
---
Original Press Release:
High-Speed Synchronous Serial Communications with First Z16C32-Based PCI Express Adapter from Sealevel
Sealevel's most requested sync product is now a reality: the 5104e Low Profile PCI Express (PCIe) Synchronous Serial Interface. The 5104e is the first Zilog® Z16C32-based PCI Express sync adapter from Sealevel and is the evolution of the popular 5104 PCI sync adapter. The new PCIe adapter provides a single high-speed synchronous serial port configurable for RS-232, RS-422 or RS-485. Other serial interfaces, including V.35, are supported by optional cable accessories. The 5104e fulfills the demand for high-speed PCI Express sync serial adapter as desktop computer platforms move away from PCI.
The 5104e's optimized controller use and on-board memory capabilities make it ideal for highspeed serial applications such as radar, telemetry and wide area network (WAN) connectivity.
A Z16C32 Integrated Universal Serial Controller (IUSC™) with on-chip direct memory access (DMA) controller and 32-byte first in, first out (FIFO) buffer coupled with 256K of on-board memory allows for burst data rates to 10 Mbps. The DMA controller supports a variety of data transfer modes including single buffer, pipelined, array and link list. For enhanced security, the 5104e includes an optional original equipment manufacturer (OEM) security feature to prevent unauthorized board use in an application.
Product Highlights
Configurable for RS-232, RS-422, RS-485, RS-530, RS-530A, or V.35
Zilog® Z16C32 IUSC with built-in DMA controller and 32-byte FIFO buffer
256K bytes of onboard RAM with link list DMA supported
Burst mode data rates to 10 Mbps
All modem control signals implemented in RS-232 mode
PCI Express X1 compliant
Compatible with low profile and standard profile PCI Express slots
OEM security feature available as an option
DB25M board connector
Compliant with RoHS and WEEE directives
To ensure successful communication application development, synchronous serial software support is provided through Sealevel's SeaMAC V5 synchronous serial driver. HDLC and SDLC protocols are supported, as well as certain configurations of monosync, bi-sync and raw modules. Existing PCI customers simply need to update to the latest SeaMAC software driver for seamless operation of their existing synchronous serial application.
The 5104e, priced at $649 with standard and low profile bracket options available, is available from stock. For more information, visit sealevel.com or call +1 864.843.4343.
ABOUT SEALEVEL SYSTEMS, INC.
Sealevel Systems, founded in 1986, provides industrial computing solutions in addition to a variety of communications and I/O products including PCI Express and PCI Bus cards, Ethernet serial servers, and USB serial adapters. The product line includes multi-port RS-232, RS- 422/485, RS-232/422/485 multi-interface high-speed sync/async, and digital/relay I/O. For more information, visit www.sealevel.com or call 864-843-4343.
Contact:
Katherine Elrod,
Marketing Communications
Sealevel Systems, Inc.
2779 Greenville Hwy., P.O. Box 830
Liberty, South Carolina USA 
+1 864.843.4343
More from Mechanical Components and Assemblies