Work Gloves are designed for use in industrial applications.
Press Release Summary: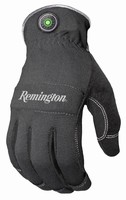 Remington Work Performance Gloves are suited for handling materials, gears, equipment, and machinery. RG-10 slip-on glove features elastic flair cuff, reinforced fingertips, and leather palms, while RG-11 utility glove comes with breathable spandex back and streamlined wrist. With gel-padded palm, RG-12 features neoprene knuckle band for dexterity and comfort. RG-13 impact gel-padded glove also includes padded leather knuckle and TPR molded panels.
---
Original Press Release:

Get a Grip! Remington Gloves Take Hold on the Performance Market



MEMPHIS, Tenn. - Friday, January 12, 2007 - Radians announced today that Remington, a world-leading manufacturer of shooting and high performance equipment and gear, has developed a new line of work performance gloves.

The new 2007 Remington Work Performance Gloves are designed as a long-lasting general utility accessory for the everyday consumer.

"We're excited about introducing this new line of gloves," said Charles Duffley, Radians' Vice President. "Each glove has a unique feature and benefit that will provide reinforced areas for the consumer's need."

The new work performance glove series provides consumers with an added benefit to their general utility tasks of handling materials, gears, equipment and machinery.

RG-10 slip-on glove has an elastic flair cuff, terry cloth thumb, reinforced fingertips and leather palms. It provides consumers with durability and comfort.

The RG-11 is a general purpose utility glove that comes with a breathable spandex back, reinforced thumb crotch, fingertips, leather palm, and a streamlined wrist to ensure a comfortable secure fit.

While the gel-padded RG-12 glove comes with the basic terry cloth thumb, reinforced fingertips and thumb crotch, it also has a gel-padded palm and neoprene knuckle band that provides consumers with greater dexterity and added comfort.

The RG-13 impact gel-padded glove comes with terry cloth thumb, reinforced fingertips and thumb crotch, a gel-padded palm plus a padded leather knuckle band and TPR molded panels, creating extra layers of protection.

Remington Work Performance Gloves are very affordable. Prices range from $17.99 to $29.99 and run from sizes medium to extra-large. For information on becoming a distributor of the new work performance gloves, contact a Radians sales representative at 1-877-723-4267.

Today, Remington and Radians work together as a dedicated team in manufacturing and marketing protective accessories for the workplace. These products embody the highest standards that come with the legendary Remington name. Radians provides Remington with a licensed partner relationship which understands the storied, high quality that consumers have come to expect from any product carrying the Remington name and logo.

As a result the consumer is placed first, allowing this partnership to deliver top quality and exciting new additions to the Remington line, an expectation that is always exceeded with hunters and industrialists.

"Remington has been around for more than 190 years, so one of the cornerstones of the company is its reliability and durability," said Duffley. "At Radians, our goal is to match that standard so the consumer can rely on us to meet their work glove performance needs."

About Remington
Remington brings more than 190 years of tradition and experience to its manufactured products. Using innovative technology and precision craftsmanship, Remington offers this same legendary excellence in their shooting glasses and hearing protection.

About Radians
Radians innovative styles deliver a comprehensive line of quality protective gear to the work and sport performance market, including eyewear, hearing protection, head gear and accessories. With locations in Michigan, Nevada and Tennessee, Radians is better able to provide its distributors with JIT shipments to meet their customers' needs. The Memphis-based company has more than seven years experience in the marketing, sales and supplier business.

More from Fluid & Gas Flow Equipment