50 Welders Work in Clean Environment Each Shift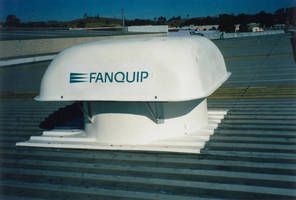 Australian air movement specialist Fanquip is behind a work safety fitout at a muti-hectare manufacturing plant that serves the need of a thriving NSW mining industry.



Fanquip designed and manufactured fans for a welding fume extraction solution to clear the work environment for teams of 50 welders at any one time working across two shifts a day.



The solution uses 14 heavy duty roof fans to vent welding fumes from this purpose specific facility – a general welding and fabrication plant.



With 60 employees in this one area, of which 50 are welders, the demand on this ventilation system is quite extreme, bearing in mind the plant operates two shifts per day.



This site serves the State's coal mining by building vehicle bodies. It is a new facility to the company and a ventilation system for the welding operations was planned right from the start to maximise the OH&S platform.



The whole system is performing well, doing more than was expected, and gives the plant more performance than management had expected it to do.



The fans were procured from Fanquip before another local company installed them all onto the roof.



Fanquip was chosen over other options primarily due to past experiences where their technologies have shown to be highly durable and their air movement engineering capability very high.



Fanquip roof fans are economical to run, have high performance, are heavy duty and emit very little noise.



In most cases, two Fanquip roof fans can replace the action of more than a dozen wind driven fans.



Fan diameters range from 400mm to 1200mm, motor speeds from 720rpm to 2880 rpm, free air volume capacity from 1484l/sec to 14000 l/sec. Most units are available in 1 Ph 240V and 3 Ph 415V.



For more information, please contact, Fanquip. 1800 224 308.

More from Machinery & Machining Tools