5 micron Resolve Columns improve calibration.
Press Release Summary: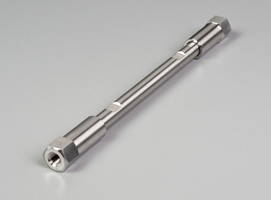 5 micron Resolve Columns are used for analysis of polydisperse materials. Featuring 0.999 coefficient of determination, mixed bed resolve columns allow separation of 200 to 3,000,000 g/mol range of molecular weights. Offering stable operation up to 220°C temperature, units feature clean light scattering background and symmetrical peaks.
---
Original Press Release:
New Addition to our Resolve Family: 5μ Columns
Just a few months after introducing Resolve 13μ Columns, a novel packing material for the high temperature molecular weight analysis of polyethylene and other polyolefins, Jordi Labs is proud to announce 5μ Columns.
You can buy them online now or download a product brochure https://jordilabs.com/knb/literature/resolve-5%C2%B5m-gpc-columns/.
This new generation of individual pore size Jordi Resolve columns 5 μm (7.8 mm ID x 300 mm L) provide high resolution in specific molecular weight ranges and covers a wider range of molecular weights with a constant resolution for the analysis of polydisperse or unknown materials. Mixed bed Resolve columns allow for separation over the molecular weight range from 200 to 3,000,000 g/mol (PS equivalent) with a coefficient of determination (R²) of 0.999. These key features make the 5μ Columns an important new addition for analytical chemistry labs:
No Dislocations in Pore Distribution
Clean Light Scattering Background
Highly Symmetrical Peaks
Improved Calibration
Low Back Pressure
Stable up to 220°C
Long Column Life
Repeatability
Plate Count
Resolution
Contact Jordi Labs to find out more about our Resolve 5μ Columns.
More from Mechanical Power Transmission