5 in. Random Orbit Sander weighs 3.3 lbs.
Press Release Summary: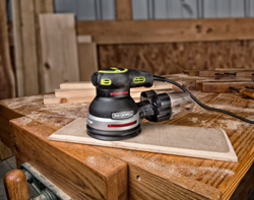 5 in. Random Orbit Sander comes with comfortable hand rubber overmold grip, inner and outer disc. Unit is equipped with dust box which has a pushbutton release option. Product is powered by a 3.3 amp motor which offers 6000 to 13,500 orbits-per-minute and is employed with on/off rocker switch. This equipment comes with 15-pc accessory set such as 5 pcs each of 60,120 and 180 grit hook-and- loop sandpaper. Sander features Vibrafree technology, 7-ft. power cord and carrying bag.
---
Original Press Release:
Give the Gifts That Keep on Giving With Rockwell's New Random Orbit Sander with Vibrafree and 20V Brushless Sonicrafter
Rockwell's new 5-inch Random Orbit Sander with Vibrafree and 20V brushless Sonicrafter are tools that continue to bring joy long after the holiday season is over. Skip the tie, sweater and slippers and give tool gifts that provide solutions to jobs throughout the house and beyond.
The Rockwell 5 inch Random Orbit Sander with Vibrafree technology makes a big difference when it comes to reducing vibration. In fact, the Vibrafree sander features up to 50 percent less vibration than other leading-brand sanders.
Unlike conventional random orbit sanders with a single sanding disc, Vibrafree employs an inner and outer disc that move in opposite directions of one another to cancel vibration. Vibration is redirected into sanding, and not the operator's hand. As a result, there's greater productivity, due to the sander's rapid removal rate.
Dust removal capability is up to 50 percent greater than that of conventional sanders with cloth dust bags. Vibrafree's bag-less, filter-less Cyclonic Dust/Air Separator system's air flow design separates dust from the air, while maintaining constant suction. This cyclonic action eliminates clogs. The dust box has a pushbutton release for easy emptying.
Random orbit sanders are handy in the workshop. Their speed and aggressive action is like a belt sander. The sanding disc moves in small ellipses to help produce smooth, swirl-free finishes.
The variable-speed 5-inch diameter random orbit sander is powered by a 3.3 amp motor that delivers 6000 to 13,500 orbits-per-minute (no load speed) for fast and smooth material removal.
The 3.3 lb. sander's ergonomically designed, elongated palm grip handle features a comfortable rubber overmold grip for optimum balance and control. Its on/off rocker switch is conveniently located and sealed for long life.
Included with the sander and the dust box is a 15-pc. accessory set, including 5 pcs. each of 60,120 and 180 grit hook-and- loop sandpaper. Other features include a 7-ft. power cord and carrying bag.
The Rockwell 5 inch Random Orbit Sander with Vibrafree technology (RK4248K, $69.99) is available at rockwelltools.com, Menards, and online at Walmart and Amazon. The Vibrafree sander is covered by Rockwell 3 year warranty.
One of the most versatile power tools is an oscillating multi-tool. This compact workhorse can cut, grind, sand, polish and hone just by swapping out accessories. Oscillating tools can handle a myriad of jobs and projects around the house and shop to save time, energy and money.
The latest oscillating tool from Rockwell is the 20V Brushless Sonicrafter. It's Rockwell's first brushless oscillating tool, and it features a 20 year warranty with free batteries for 20 years, once the tool is registered.
When an independent lab tested the 20V Brushless Sonicrafter against a leading competitor, it achieved 20 percent more cuts-per-charge in HDF boards, and 35 percent more cuts in 1 in. oak dowels.
The multi-tool features a 4º oscillating angle. Most tools in this category have 3.2º oscillating angles. The advantage of a wider oscillating angle is its enhance cutting capacity by making quicker cuts.
Rockwell pioneered Universal Fit, the industry's first true universal accessory system, which enabled Sonicrafters to accept other major brands' accessories without adapters. Rockwell's universal accessories are manufactured to fit all other competitive oscillating tools as well.
The 20V brushless Sonicrafter also features Hyperlock, a tool-less blade change system that eliminates blade slippage by providing one ton of clamping force.
The Rockwell's 20V Sonicrafter's brushless motor features up to 10 times the motor life and 25 percent more power than a comparable, conventional brushed motor. Highly magnetic rare earth metals increase power output. Plus, battery run time increases by up to 50 percent per charge versus standard brushed motors. The brushless motor features computer-controlled power distribution, which improves motor efficiency and durability by reducing heat, friction, noise and wear.
The 20V brushless Sonicrafter has a tapered, compact body powered by a 20V 2.0 Ah MAX battery. The tool's variable speed brushless motor has a no-load speed of 8,000 to 18,000 oscillations-per-minute (opm). The 3.1 lb. (with battery) multi-tool has a full metal head and also features constant speed control, which electronically maintains speed-of-cut under load. Plus, an integrated LED light helps illuminates the work area.
The 20V brushless Sonicrafter includes an 8-pc. accessory kit, one 20V 2.0 Ah MAX battery, one hour charger and carrying bag.
The Rockwell 20V Brushless Sonicrafter (RK2701K, $179) is available at rockwelltools.com, Lowes and online at Amazon.com
More from Mechanical Power Transmission