CNC Grinder targets creepfeed applications.
Press Release Summary: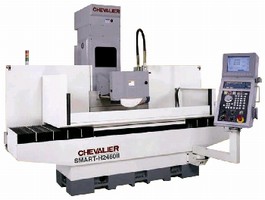 Equipped with SMART control running on Windows platform, 24 in. Smart CNC Grinder offers conversational surface, criss-cross, plunge, and profile grinding modes as well as 4 types of wheel dressing models and range of factory-programmed canned cycles. Simulation mode allows users to simulate grinding path and dressing cycles by turning MPG handwheel. Offered with 24 x 40, 24 x 60, or 24 x 80 in. table, machine features 16 x 3 x 5 in. wheel, 25 hp spindle, and double V longitudinal slideways.
---
Original Press Release:

Easy to Use 24 in. CNC Grinder for Creepfeed Applications



Creepfeed grinding, also called abrasive machining, is for jobs that require large stock removal in one pass without compromising the integrity of the workpiece. Conventional machining of workpieces involves milling in soft state, heat treatment and finish-grinding. Somewhere in-between, distortion occurs and some processes have to be repeated to achieve the required shape or flatness. With creepfeed grinding, formed grinding wheels can produce finished parts in a single pass. Creepfeed grinding wheels are reshaped and automatically dressed with compensation, providing consistent repeatability and enabling the machine to run unattended. Chevalier's new 24" Smart grinder is the latest addition to its creepfeed line which now range from models with 2HP, 8" x 18" table to powerful 75HP, 24" x 80" table. Equipped with its own SMART control running on Windows platform, the grinder offers conversational surface, criss-cross, plunge and profile grinding modes as well as 4 types of wheel dressing models along with a range of factory programmed canned cycles. Wheel dressing can even be done during the grinding cycle through a cycle interrupt button --- the wheel stops, goes to the dresser and then returns to the original grinding position. The simulation mode allows users to simulate the grinding path and dressing cycles by turning the MPG handwheel: turn the wheel counterclockwise to execute the program and clockwise to reverse. This feature eliminates expensive dry runs, prevents crashes that occur when running new programs and greatly reduces setup time. After cycle end, the system allows the operator to execute additional finish cuts without repeating the whole cycle. The control is FANUC G-code compatible and both conversational and G-code programs can be saved in the CF card or floppy disk for future use. High horsepower creepfeed grinders demand rigidity to eliminate vibration and at the same time deliver positioning accuracy and repeatability within ±0.00032". For this reason, Chevalier used ProE/Pro-Mechanica designed frame, Meehanite cast iron casting with heavy ribbing to resist flexing; large diameter, cartridge type 25HP (opt 35HP) spindle with aircooled, totally enclosed spindle motor; hand-scraped, Turcite-B laminated double "V" longitudinal slideways; crossfeed system featuring linear slideways, precision C3 ballscrews and Mitsubishi servo motor; pneumatic counterweight balance system to eliminate backlash and prevent the premature wear of the elevating screws and hydraulic system temperature regulator to minimize thermal expansion. Table sizes available are 24"x40", 24"x60" and 24"x80". Standard wheel is 16"x3"x5", opt 20". For a complete product lineup, go to chevalierusa.com/creepfeed.htm or contact: Johnson Lan at (562) 903-1929 ext 126 or e-mail [email protected]

Company Name: Chevalier Machinery, Inc.
Address 1: 9925 Tabor Pl
City: Santa Fe Springs
State: CA
Zip: 90670
Phone: 562-903-1929
URL: www.chevalierusa.com

Contact Name: Ruel Andal
E-mail: [email protected]