Applicator / Finishing / Cleaning Brushes
480 Volt Steam Vac Cleaner Machines with Low-Cost Brushes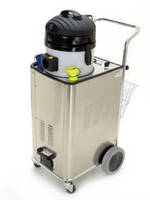 Daimer® expects to offer commercial grade, $2.50 brushes for its disinfecting line of Ultra 8448-360 CVP KleenJet® extraction machines.

Woburn, MA U.S.A. -Daimer Industries®, Inc., a state-of-the-art supplier of janitorial equipment, expects to ship a new series of low-cost detailing brush add-ons for its disinfecting line of KleenJet® Ultra 8448-360 CVP industrial steam vac cleaner machines. The detailing brushes, which are popular replacement items for commercial cleaning contractors, are expected to be priced at just $2.50, nearly one-eighth the price that many competing suppliers charge for comparable items.

"The 440 volt 8448-360 CVP steam vac cleaner machines with integrated vacuums are always popular with large institutional customers," noted Daimer.com's commercial systems representative/spokesman Matthew Baratta. "Still, it's common for even experienced buyers to underestimate the price of consumable items when budgeting for new steam vac cleaner equipment. So, we decided to help customers reduce their long-term costs and make buying our machines the obvious choice."

Low-Priced Brushes for High-End Steam Vac Cleaner Machines

The economical brushes are at the core of Daimer®'s new low-maintenance-cost program designed for professional cleaning operations facing tighter budgets. Daimer® executives say that purchasing 100 of the new brushes for an 8448-360 will cost $250. Similar acquisitions from competitor and other sources would cost up to $2000.

The new brush for 8448-360 CVP line of steam vac cleaner machines will be available for different abrasion needs. Steel bristled brushes will provide the most abrasion, brass bristled products will provide slightly less abrasion and nylon will provide minimum abrasion for the most delicate jobs.

Daimer®'s 60 Hz 480V KleenJet® Ultra 8448-360 CVP steam vac cleaner machines are configured for 3 phase power. Similar 50 Hz systems are also available for those customers in non-60 Hz environments. The 4,850 watt equipment provides more than three times the wattage and steam production as 1,600 watt steam vac cleaner machines. The 8448-360 CVP units are shipped with 24 liters of total water capacity (boiler plus refill tank) and direct water feed support. The commercial steam cleaners can generate pressure levels of as much as 120 psi and temperatures of as much as 329ºF.

For additional information about Daimer® vapor steam cleaner products and commercial steam cleaner add-ons, visit www.daimer.com/steam-cleaners/ or call Matthew Baratta at (888) 507-2220. The steam cleaner systems are available to customers in most countries in 50 Hz and 60 Hz configurations. Minimum order quantities may apply.

About Daimer Industries, Inc.®: Daimer®, www.daimer.com, is a major supplier and worldwide exporter of the cleaning industry's leading line of KleenJet® steam cleaners/vapor steam cleaners/steam cleaning equipment; Super Max(TM) commercial and industrial pressure washers, including cold water, hot water, and steam pressure washing machines; and XTreme Power® floor cleaners, including carpet cleaners and hard surface cleaners.


More from Electrical Equipment & Systems