LED Candles flicker like real candles.
Press Release Summary: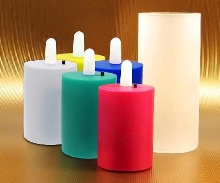 LED Candle Lights eliminate smoke, hot wax, and fire hazard since there is no burning or open flame. Solid-state design renders LEDs impervious to electrical and mechanical shock, vibration, frequent switching, and environmental fluctuation. Operating for 192 hours on 2 AAA batteries, LED candles offer portable light source for window displays, tables, gardens, pools, decks, or patios. Set includes 5 LED candles and 5 frosted glass candleholders.
---
Original Press Release:

Flame Proof LED Candle Flickers Like a Real Candle


TORRANCE, CA - June 17, 2005 - LEDtronics announces the release of it's LED Candle Light that flickers like a real candle but without the smoke or carcinogenic to worry about. LED candles also eliminate the hot wax and fire hazard so there is no burning or open flame to deal with.

LED lamps operate for more than 100,000 hours (10 years). This energy-efficient LED candle operates for nearly 192 hours (8 days) on two replaceable AAA-cell batteries. (Batteries are not included with LED candle.). Use the LED candle as a reliable portable light source for Window displays, Ideal for decor ambiance mood lighting, Restaurant/Club candle table light and for night party candle lights around garden, pools, decks, or patios.

A box of LED candle Come with 5 LED candles and 5 frosted glass candleholders to give that authentic look and feel of a real candle. Weight of five LED candles with holders and box packaging: 1lb, 2.6oz [527grams].

With an average LED life span of 100,000-plus hours (11 years), LEDs operate reliably year-after-year. Solid-state design renders LEDs impervious to electrical and mechanical shock, vibration, frequent switching and environmental fluctuation. LED lamps use only 10% - 20% of the energy consumed by equivalent incandescent lamps that when combined with their maintenance-free operation results in substantial cost savings.

Founded in 1983, LEDtronics® leads where others only follow when it comes to designing, manufacturing and packaging state-of-the-art LEDs to meet the world's constantly changing lighting needs. Our inventive product line encompasses an array of direct incandescent lamp replacement Based LEDs, low-cost snap-in and relampable Panel Mount LEDs, high intensity sunlight-visible Discrete LEDs, PCB LEDs circuit board status indicators, surface mount diodes SMT LEDs, full-spectrum rainbow RGB LEDs, Ultraviolet (UV) and Infra-Red (IR) LEDs.

Price for a box of LED candles is $25.00 each. Availability is stock to 4 weeks for special requirements. For additional information, contact LEDtronics toll free at 1-800-579-4875, telephone 310-534-1505, fax at 310-534-1424, e-mail webmaster@ledtronics.com or mail at LEDtronics Inc., 23105 Kashiwa Court, Torrance, CA 90505. Visit our website at: LEDtronics.com.

The direct web link to the on-line datasheet is as follows:
www.ledtronics.com/ds/LED-CANDLE-001/default.asp

Related