Machine Vision System has 1280 x 1024 max array resolution.
Press Release Summary: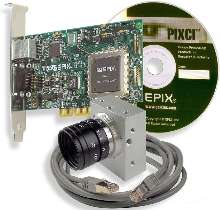 SILICON VIDEO® 9M001 camera system includes camera, PIXCI SI PCI bus frame grabber, RJ-45 cable, and ready-to-run XCAP-Lite software. Camera has 1.5 x 1.8 in. case and provides max array resolution at 10 bits per pixel. Programmable area of interest and programmable pixel clock allow frame rates from 30-1,500 fps, while PIXCI SI PCI interface supplies power, programmable pixel clock, exposure control, trigger input, and strobe output.
---
Original Press Release:

Silicon Video Camera System


Buffalo Grove, Illinois - EPIX®, Inc., announces the SILICON VIDEO® 9M001 camera system.

The small and rugged 1.5 inch by 1.8 inch camera case provides a high speed and high resolution machine vision camera.

The attractive $995 system price includes the camera, PIXCI SI PCI bus frame grabber, RJ-45 cable, and ready to run XCAP-Lite software.

The camera system has a maximum array resolution of 1280 x 1024 at 10-bits per pixel.

Programmable area of interest and the programmable pixel clock allow frame rates from 30 frames per second at 1280 x 1024 at a 48 MHz pixel clock up to 1500 frames per second at 1280 x 4 at a 70 MHz pixel clock.

The PIXCI SI PCI interface supplies power, programmable pixel clock, exposure control, trigger input, and strobe output.

Applications include biometrics, research, inspection, quality control, and security. Available now. Visit the EPIX® web site (www.epixinc.com) for detailed specifications.

PRODUCT INFORMATION
Charles Dijak
EPIX, Inc.
381 Lexington Drive
Buffalo Grove, IL 60089
Tel: 847.465.1818
Fax: 847.465.1919
[email protected]
www.epixinc.com