Documenting Calibrator provides HART functionality.
Press Release Summary: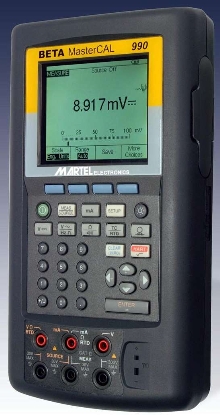 As precision calibrator, hand-held MasterCAL(TM) 990 reads thermocouple, RTD, ohms, dc and ac voltage, dc current, pressure, and frequency and sources most of above. Measurements are displayed on 200 x 240 pixel, backlit LCD display. As HART configurator/communicator, product supports universal, command practice, and device-specific commands for various devices. It also supports point-to-point as well as multi-drop and burst-mode operation.
---
Original Press Release:

Beta Introduces MasterCAL(TM) 990 Documenting Calibrator and HART(TM) Configurator/Communicator


Londonderry, NH and Farmers Branch, TX; August 31, 2004 - Beta Calibrators, a unit of Martel Electronics Corporation (Beta) has announced the introduction of its new MasterCAL 990 documenting calibrator, which provides extensive precision calibration and HART functionality in a single, easy-to-use, hand-held instrument.

As a precision calibrator designed for field applications, the MasterCAL 990 reads thermocouple, RTD, Ohms, DC and AC Voltage, DC current, pressure, and frequency, and will source thermocouple, RTD, Ohms, DC Voltage and current, and frequency. Numerous functions make field use quick and easy, including loop power, switch test, a transmitter simulator mode, automated and user-programmable procedures. Measurements can be displayed in engineering units, percent of scale, square-law inputs, or custom units. A 200x240 pixel, bright white backlit LCD display provides simultaneous split-screen input and output display. The MasterCAL 990 calibration automation and documentation is compatible with many popular third-party software packages.

As a HART configurator/communicator, the MasterCAL 990 provides support for universal, commond practice, and device-specific commands for a variety of devices. The 990 supports point-to-point operation, as well as multi-drop and burst-mode operation. HART configurations can be read and written, transmitter configurations can be read and cloned, smart transmitters can be re-tagged, and HART sensor and output trim can be automated. Most instrument maintenance functions can be accomplished using just the MasterCAL 990, without the need for a separate HART communicator. Hookup is simple with the supplied HART interface cable. The calibrator menus automatically branch to appropriate adjustment choices. Automatic completion of test templates and automatic fetching and sending of analog readings during trim operations make HART calibration highly efficient.

Martel Electronics Corporation and the Beta Calibrators Division offer a diversified line of hand-held and bench calibrators, process instruments, process indicators, power supplies, meters and displays, and test and measurement instruments manufactured to the highest quality standards for the process industry and OEM applications.

More from Computer Hardware & Peripherals