Water Deburring Center allows multi-part processing.
Press Release Summary: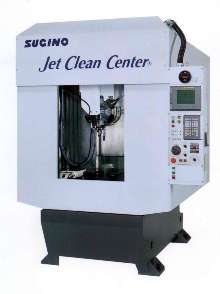 Jet-Clean Center 4-axis high-pressure deburring center clears chips and burrs from machined components. Large 20 x 12 x 12 in. XYZ-work area permits large part capacity and/or multi-part processing. Using 5,000 psi water and nozzle technology, unit blasts and dislodges compacted chips and debris from blind, tapped and cross holes and passages. Traveling at sonic velocities to 1,100 ft/sec, water produces cleaning action similar to low/medium pressure cleaning systems.
---
Original Press Release:
New Sugino Jet-Clean® Center Improves High-Pressure Water Deburring Process
Itasca, Illinois. Sugino Corp. has introduced an improved version of its flexible Jet-CLean Center 4-axis, high-pressure water deburring center that has attained high success ratings from its many users for clearing chips and burrs from critical, precision-machined components in such applications as automotive fuel and braking systems, hydraulic pumps, cylinder heads, crank and cam shafts, and other critical performance parts, announced Sugino National Sales Manager John Fischer. Those chips and burrs states Fischer, "have been the major contribution to erratic operation and expensive warranty work, high-percentage scrappage, or created problems to matching parts in precision assemblies." Engineered with larger a 20" x 12" x 12" XYZ-work area that permits larger part capacity and/or simultaneous multi-part processing, the Jet-Clean Center uses 5,000 PSI water and state-of-the-art nozzle technology to blast and dislodge compacted chips and debris from blind, tapped and cross holes and passages wherever they may be hidden. It effectively removes feather edge burrs and flash from complex-shaped parts machined from plastics, aluminum, steel, space-age alloys and flushes the contaminants from the workpiece. Simultaneously, travelling at sonic velocities to 1,100 ft./sec., the high pressure water produces a cleaning action superior to prevailing low or medium pressure water cleaning systems. The Jet-Clean Center adapts a Sugino 6-spindle turret on a travelling column with a high-pressure pump system that is capable of delivering high-pressure water from any of the turret's spindle positions. The spindles can be fitted with a lance or straight nozzle to reach into the small passage and incise hard to reach burrs. Fan and manifold nozzles are used to clean and deburr contaminants from exterior and interior surfaces. Special nozzles are available for specific deburring and cleaning applications. Nozzle spindle speed is 150 RPM. After Jet-Clean cleaning and deburring operation, the finished workpiece is generally ready for final assembly without grinding, ECM-ing, or any other deburring or cleaning operation, cutting in-process time by as much as 50%. Inspection is often reduced to statistical sampling. And for extra prevention, the Jet-Clean Center is also available as a 10,000 PSI deburring system to increase the protection against troublesome burrs and chips. "Any burrs remaining after that," assures Fischer, "won't come off in the operating environment of the actual workpiece." As options, an A/B load-shuttle table combined with a CNC indexing table can rotate fixtured parts 360° and deburr as many as six sides of the workpiece with assorted nozzle configurations that deliver high-pressure water at sonic velocities to 1,100 ft./sec. Fischer reports the Jet-Clean Center is particularly cost-effective for a manufacturer who is searching for a consistent, efficient and flexible means to improve the integrity of workpieces in small to medium lot sizes up to approximately 1,500, 000 parts per year. Originally conceived as a combination small machining center, the first Jet-Clean Center combined drilling, tapping and face milling with one or more of the spindles of its horizontal or vertical rotary turret. It soon became evident that users were more interested in the Jet-Clean Center's deburring capabilities. Now, the only tooling spindle is a 600 RPM, 1/2-HP spindle used for brushes, reamers or other hard-tool deburring devices acting in conjunction with high pressure water. Spindle speed with a water-jet nozzle is 150 RPM. The pumping station is equipped with a Sugino Triplex Positive Displacement Pump capable of producing water pressure to 5,000 or 10,000 PSI. The pumping station has a 250 gallon water reservoir and is equipped with a filtration unit and safety interlocks. The 5,000 PSI unit is powered by a 30 HP motor. The 10,000 PSI Jet-Clean is powered by a 75 HP motor. Flow rate is 7.7 GPM, max. All deburring operations are controlled by a G-code programming Fanuc 21-1 Ma CNC control with RS-232C port for interfacing with a personal computer. Jet-Clean Center Specifications: Length: 160" (including pump) Width: 71" Height: 108" Weight: 8,800 lbs. Sugino Corp. manufactures and distributes automatic electro-pneumatic, electric, pneumatic and ballscrew CNC Selfeeder® drilling units from 1/4 HP up to 7-1/2 HP, lead-screw Synchro-Tapper® tapping units, CNC Self-Center(TM) machining centers and CNC Self-Units(TM) drill/tap modules, 5,000 &10,000 PSI Jet-Clean Centers® high-pressure water deburring systems, U-Jet(TM) high-pressure water washing systems and other equipment and systems for metalworking production. For more information, contact: Mr. John Fischer, National Sales Manager, Sugino Corp., 1380 Hamilton Pkwy., Itasca, Illinois 60143. Phone: (630) 250-8585. Fax: (630) 250-8665. E-Mail: mach@suginocorp.com o Web Site: suginocorp.co
Contact This Company Download Spec Sheet
More from Agricultural & Farming Products