Lead-Screw Drill Units hold holemaking tolerances.
Press Release Summary: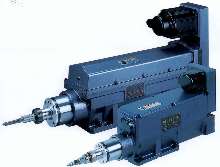 Available in 2 electrically-driven models, Varimec(TM) self-contained Selfeeder drill units are capable of end milling and face-machining operations. Quill-fed drill units include 0.5 hp SSV3 and 3.25 hp SSV5. Former has total stroke length of 7.87 in. and max cutting speed of 0.656 ips, while latter has total stroke length of 11.81 in. and max cutting speed of 0.65 ips. They incorporate internal linear slides, AC servo motor-driven ball screws, and feed controller.
---
Original Press Release:

New Sugino "Varimec" Lead-Screw Selfeeder Drill Units Reduces Size Configuration, Holds Precise Holemaking Tolerances; Provides Accurate End Milling, Facing Machining Operations


Itasca, Illinois. The newly engineered "Varimec(TM)" powerful lead-screw Selfeeder was designed to meet the demand by manufacturers for a smaller, more powerful and accurate self-contained drill unit capable of a high degree of accuracy in a wide-range of metals and other materials.

The "Varimec" units, according to Sugino Corp. National Sales Manager John Fischer, are believed to be the first truly successful, quill-fed drill units that are capable of precision end milling and face-machining operations."

Presently available in two electrically-driven models, the SSV3, shown as the lower drill unit in the accompanying photograph, is rated at 0.5HP (0.4Kw), while the larger SSV5 unit is rated at 3.25HP (2.5Kw).

The SSV3 is offered in a low-speed/high-torque model with chucking capacity from 1/8" to 5/8" (3.6mm to 16.0mm), no-load spindle speeds of 265-2650 RPM and torque rated at 1.03-2.88 ft.lbs. The high-speed SSV3 model has a chucking capacity from 1/64" to 17/64" (0.5mm to 7.0mm), no-load spindle speeds from 1,000-10,000 RPM and torque is rated at 0.28-0.78 ft.lbs.

The total stroke length from the two SSV3 models is 7.87" (200mm). The adjustment length for rapid advance is variable. Rapid approach and return speed is 7.92"/sec.(200mm/sec). Maximum cutting speed is 0.656"/sec (16.7mm/sec.).

The 3.25HP (2.5 Kw) SSV5 "Varimec" (upper unit in photograph) low-speed/high torque and a high-speed models have a 11.81" stroke length (300mm).

The high-torque SSV5 unit has a chucking capacity from 1/8" to 1.0" (3.0mm to 26.0mm) and a no-load speed of 60-1010 RPM while the high-speed model of the SSV5 has a chuck capacity of 5/64" to 25/32" (2.0mm to 20.0mm) and drill speeds from 300-5500 RPM.

The total stroke length from the two SSV5 models is 11.81" (300mm). The adjustment length for rapid advance can be varied. Rapid approach and return speed is 11.81"/sec. (300mm/sec). Maximum cutting speed is 0.65"/sec (16.7mm/sec.).

Spindle runout for both of the Varimec units is under 0.0004" TIR.

Internal linear slides used to guide the quill are among the innovative engineering features incorporated into the Varimec that have increased the rigidity of the unit and reduced its size. Designing the spindle motor within the moving Z-axis quill and other proprietary features have reduced the overall size of the SSV3 to 22.3" (567mm) and the SSV5 to 34.3" (871mm).

The extreme high rigidity of the Varimec parallels machining centers. This added characteristic eliminates side-load chattering, enhancing the Varimec versatility to perform end milling and face machining operations.

Nominal unit weight for the SSV3 is 94.6 lbs. (43 kg) while the nominal weight of the SSV5 is 220.0 lbs. (100 kg).

Designed with AC servo motor-driven ball screws, the size, accuracy and reliability of the "Varimec" units will prove valuable to manufacturers using multi-process machining equipment," notes John Fischer, " who are concerned with consistent hole quality, burr reduction, and improved tool life when drilling deep and/or shallow holes in the toughest metals including titanium, exotic and high nickel alloys. They can be used for drilling aluminum, cast iron, plastics and composite materials.

Programming is accomplished with an available hand-held Programming Console to input information or through the R232C port for use with a laptop computer.

The "Varimec" controller can store up to 99 individual programs. There are 13 pre-programmed drill modes including standard, step, dwell, skip, spot-face, inverse spot-face and other drilling modes to simplify set-up and production.

The new "Varimec" is furnished with a feed controller, an inverter for spindle speed operation, all interfacing cables and hardware that are necessary for easy integration into any manufacturing operation, cell, system or dedicated machinery. "Varimec" units can be mounted directly to a machine base or to adjusted columns to provide accurate drilling or machining at any required angle.

The "Varimec" Selfeeder can be equipped with multi-spindle drill heads and off-set drill heads to increase their productivity and versatility.

The Sugino "Varimec" Selfeeder drill units are warranted to be free from defects in materials and original workmanship for one year from date of purchase.

Sugino Corp. manufactures and markets a line of Selfeeder® automated drilling and Synchro Tapper® tapping machines, Self-Center(TM) machining centers, Superoll roller burnishing tools, Jet-Clean® Center high-pressure water-jet cleaning and deburring systems. U-Jet(TM) high-pressure water-washing systems and other metalworking and maintenance equipment.

For more information, contact: Mr. John Fischer, National Sales Manager, Sugino Corp., 1380 Hamilton Parkway, Itasca, Illinois 60143. Phone: (630)250-8585. Fax: (630)250-8665. www.suginocorp.com. [email protected].