400 MPM Singlefold Towel Interfolding Line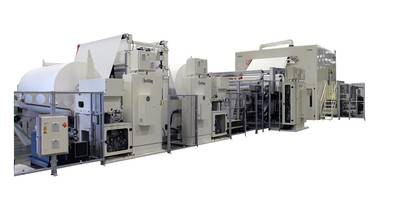 7-March-2022 Ashland, Wisconsin - C. G. Bretting Manufacturing is pleased to announce the launch of our 400 MPM Singlefold Towel Interfolder, a new high-speed, interfolding line.
The new Singlefold Towel Interfolder provides the highest towel production capability on the market today. This new platform is the result of years of research and development in mechanical folding and separation technologies.
The 400 MPM Singlefold follows a long legacy of quality machinery from Bretting, including Multifold and Tissue along with a wide array of napkin folders for both At-home and Away-from-home markets.
Let the Bretting expertise and innovation work for you. Please contact us to learn more about our latest Towel Singlefold line and how it can make your operations more productive.
C. G. Bretting Manufacturing Co., Inc. ("Bretting") is a 132-year-old, fifth generation family-owned business located in Ashland, Wisconsin with 280,000 square feet of manufacturing and office space. Bretting is a world leader in the design, manufacture, and service of paper converting equipment along with contract machining. Absolut Manufacturing, LLC, located in Iron River, Wisconsin, is where we design, manufacture, and service nonwoven and paper bag converting equipment. We recently added a new 30,000 square foot building which includes office, manufacturing, and assembly space. T&T Manufacturing, LLC in Spooner, Wisconsin, another Bretting Company, provides high-quality machining and fabrication services.
More from Machinery & Machining Tools