4-Channel Digital Oscilloscope employs UltraVision technology.
Press Release Summary: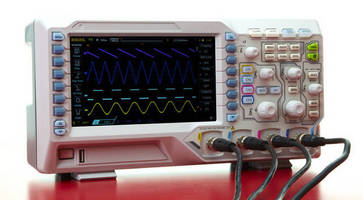 Available in 70 or 100 MHz bandwidths, DS1000Z Series offers standard memory depth of 12 Mpts as standard (expandable to 24 Mpts) and waveform capture rate of 30,000 wfms/s (max). Use of UltraVision technology enables capture of up to 60,000 frames with real-time waveform recording. While DS1000Z series has 1 GSa/s max sample rate (single channel), DS1000Z-S includes additional 2 built-in 25 MHz waveform generator channels. Trigger functions and analysis capabilities are also included.
---
Original Press Release:

New 4 Channel Digital Oscilloscope with Rigol's UltraVision Technology Designed for the Economic Desktop



Oakwood Village, OH -- Rigol Technologies, Inc. introduces the DS1000Z Series digital oscilloscope, the latest addition to the Rigol scope family, featuring their UltraVision technology. As another best-in-class testing instrument from Rigol, the new DS1000Z is available in 70 or 100 MHz bandwidths and provides the performance expected from a modern 4 channel oscilloscope, but at the cost of a traditional 2 channel scope.



Easy-to-use and ultra-modern, the 4 channel DS1000Z series features an excellent memory depth of 12 Mpts standard, which can be extended to an optional 24 Mpts. The DS1000Z series has a 1GSa/s max. sample rate (single channel), while the DS1000Z-S includes an additional 2 built-in 25 MHz waveform generator channels. DS1000Z oscilloscopes also feature a fast waveform capture rate of 30,000 wfms/s (max).



Using Rigol's innovative UltraVision technology, the DS1000Z series can capture up to 60,000 frames real-time waveform recording. In addition, compact and lightweight DS1000Z scopes have powerful trigger functions and broad analysis capabilities, all easily viewed on a 7" WVGA screen with multiple intensity levels of waveform display. Rigol offers complete connectivity for their DS1000Z oscilloscope, including LAN (LX-C), USB Host & Device, and USB-GPIB (optional) connections. Optional serial buses triggering and decoding are also available.



Prices for the DS1000Z series start at less than $600. Some models are in stock and available immediately, others may have up to a several week lead-time. Please contact Rigol for additional information.



About Rigol Technologies:

Rigol Technologies, Inc, an ISO9001:2000 Quality Management System and ISO14001:2004 Environmental Management System Certified company, is one of the worldwide leaders in test and measurement instrumentation.  Rigol's premium line of products includes Digital Oscilloscopes, RF Spectrum Analyzers, Digital Multimeters, Function/Arbitrary Waveform Generators, and Digital Programmable Power Supplies. With their US Headquarters just outside of Cleveland, OH and their European Headquarters in Munich, Germany, Rigol offers products and services in over 60 countries/regions on six continents, with more than 150 distributors and representatives.



For more information, contact:

Chris Armstrong

General Manager

7401 First Place, Suite N

Oakwood Village, OH  44146

(PH) 440-232-4488

e-mail: info@rigol.com

www.Rigolna.com



-or-



Tim Glass

Altman-Hall Associates

235 W. 7th Street

Erie, PA 16501

(PH) 814-454-0158

www.altman-hall.com