3G-SDI Development Kits offer synthesizable FPGA source code.
Press Release Summary: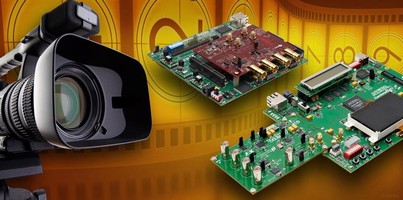 SDALTEVK and SDXILEVK triple-rate SDI and video clocking daughter card development kits include FPGA IP for audio embedding and test pattern generation and framing for SD, HD, and 3 Gbps type-A SDI formats. They support 270 Mbps, 1.485 and 2.97 Gbps data rates. SDALTEVK plugs directly into Altera's Cyclone III development board via high-speed mezzanine connector, while SDXILEVK plugs into Xilinx Spartan-3A development board via Avnet's EXP expansion module.
---
Original Press Release:

National Semiconductor Introduces Industry's First Comprehensive 3G-SDI Development Kits



Triple-Rate SDI Daughter Cards Combine with Altera and Xilinx FPGA Development Kits to Enable Broadcast Video Applications

SANTA CLARA, Calif. - September 10, 2008 - National Semiconductor Corp. (NYSE:NSM) today introduced the industry's first triple-rate (3G/HD/SD) serial digital interface (SDI) and video clocking daughter card development kits that maximize system performance and simplify the design of new broadcast video equipment. The two daughter cards are compatible with development kits from Altera and Xilinx and include synthesizable field-programmable gate array (FPGA) source code and the entire SDI signal path and video clocking solution together on one board. This allows designers to evaluate system performance, implement or modify FPGA source code, finalize architectures and start new designs.

Broadcast and professional video equipment designers now have a one-stop shop for beginning new, ultra-low jitter SDI designs for video routers, production switchers, video servers and a wide range of video editing and post-production equipment. Both daughter cards support industry-standard 270 Mbps, 1.485 Gbps and 2.97 Gbps data rates, enabling transmission of digital video broadcasting-asynchronous serial interface (DVB-ASI), standard-definition (SMPTE 259M-C), high-definition (SMPTE 292M) and the new 3G-SDI standard (SMPTE 424M) for uncompressed serial transmission of 1080p50/60 signals over a single link of coaxial cable.

"National Semiconductor's new triple-rate SDI and video clocking daughter cards enable broadcast designers to develop systems quickly with Altera's Cyclone III or Stratix III FPGA families," said Arun Iyengar, senior director of Altera's communications business unit. "At IBC 2008, designers can experience the superior video quality of 1080p through a video demonstration based on this daughter card and a Stratix III EP3S340 FPGA at Altera's booth, or a Cyclone III FPGA video demonstration at National's booth."

SDALTEVK and SDXILEVK Daughter Cards/Development Kits

National's SDALTEVK daughter card plugs directly into Altera's Cyclone III development board via a high-speed mezannine connector (HSMC), while the SDXILEVK daughter card plugs directly into the Xilinx Spartan-3A development board via Avnet's EXP expansion module. Each National daughter card supports a complete 3G-SDI signal path consisting of adaptive cable equalizer (LMH0344), deserializer with reclocked loop through (LMH0341) and serializer with integrated cable driver (LMH0340). A multi-rate sync separator (LMH1981) and clock generator (LMH1982) deliver ultra-low-jitter reference clocks to the host FPGA. A reference clock selector -- either 4 x 4 low-voltage differential signaling (LVDS) crosspoint switch (DS25CP104) or 2 x 2 LVDS crosspoint switch (DS90CP22) -- enables four selectable clocking options:

o Recovered clock from LMH0341 deserializer
o Genlock from analog reference, LMH1981 sync separator and LMH1982 clock generator
o Local clock generation from LMH1982 in free-run mode
o External clock via subminiature version-A (SMA) connector

These selectable reference clocks allow designers to quickly compare system jitter performance, using different clocking sources, and then select the best fit for their project. For example, one application may require genlock capability for synchronization while another one leverages the recovered clock from the SDI deserializer.

The daughter cards are independently powered by National's LP3878 low-noise dropout regulator (LDO). The SDALTEVK includes National's PowerWise® LM20242 adjustable-frequency synchronous buck regulator.

Each development kit includes FPGA IP for audio embedding and test pattern generation, plus framing for SD, HD and 3 Gbps type-A SDI formats. National provides both the hardware and FPGA firmware, enabling system designers to modify their design, quickly adapt to standard changes, add features and reduce time-to-market. Competing solutions that integrate the protocol blocks locally in the discrete SerDes constrain system designs to a fixed set of digital functions that limit flexibility and raise compatibility issues.

Pricing and Availability

Available now, the SDALTEVK and SDXILEVK daughter card development kits are priced at $399 each. Provided with the purchase of each kit is comprehensive design documentation and FPGA source code in synthesizable Verilog or VHDL. For more information or to order these daughter card development kits, visit www.national.com/sdaltevk and www.national.com/sdxilevk.

National will be demonstrating these daughter card development kits at the International Broadcasting Convention (IBC) in Amsterdam from September 12-16 at Hall 11, Booth F79.

Solutions Supporting Video Systems

National's high-performance analog and mixed-signal technology can help video engineers differentiate their products. National provides the key functions every system engineer requires, including operational amplifiers, power management, data conversion, interface, clocking, serial digital video products, audio subsystems, display integrated circuits (ICs) and networking products. For more information on National's SDI broadcast video products, visit www.national.com/sdi.

About National Semiconductor

National Semiconductor creates energy-efficient analog and mixed-signal semiconductors. Its PowerWise® products enable systems that consume less power, extend battery life and generate less heat. Headquartered in Santa Clara, Calif., National reported sales of $1.89 billion for fiscal 2008 which ended May 25, 2008. Additional company and product information is available at www.national.com.

Company Name: National Semiconductor
Address 1: 3689 Kifer Rd
Address 2: MS G1-124
City: Santa Clara
State: CA
Zip: 95131
Country: USA
Phone: 408-721-6929

URL: www.national.com