3DT's Popular MultiDyne Corona Treating System Now with Improved Treating Heads for Better Performance and Savings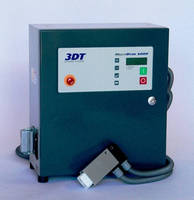 Germantown, WI, USA. – 3DT LLC of Germantown, Wisconsin has updated its MultiDyne corona treating heads from a molded head to an assembled one. This change assures a sturdier platform for consistent surface treatment. Additionally, should a component fail over time, it can easily and inexpensively be replaced; a cost-saving benefit to customers.



MultiDyne improves adhesion on 3-D parts effectively and inexpensively treating numerous substrates and a wide variety of applications with minimal set up. MultiDyne's corona treatment is gentle yet powerful, causing improved bonding of paint, ink, adhesive and coating. It is designed for the surface treatment of injection, blow molded and extruded parts, especially those with complex shapes.



Most polymer molded parts have very low surface energy levels and do not bond well to adhesives and inks. MultiDyne uses corona treatment to alter the molecular structure of polymer parts, thereby raising the surface energy and highly improving wettability. MultiDyne can be used as a stand-alone unit or incorporated into existing or new product lines. It treats surfaces uniformly and consistently using a process-controlled system allowing for repeatable, effective treatment every time.