3DT Launches PlasmaDyne Pro with Optimized and Sophisticated Control Unit
Press Release Summary: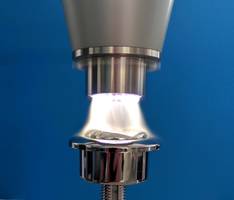 Delivers uniform treatment that is complex 3-dimensional shapes and it is also customizable for many applications and production modes
Provides adjustable power level up to 600W that helps to achieve desirable treatment levels
Monitoring all the system parameters with color touch display also includes troubleshooting and fault log
---
Original Press Release:
PlasmaDyne Pro for Powerful Adhesion on Numerous Substrates
Germantown, WI 3DT's hardworking, classic atmospheric plasma treatment system, PlasmaDyne, has been thoroughly updated as a part of the company's effort toward continual improvement. Updates include the newest in electrical engineering components and design. Renamed PlasmaDyne Pro, the upgraded system features an optimized, sophisticated control unit, adjustable plasma treatment levels, energy efficiency, modular replacement parts, and it's compact and economical.
PlasmaDyne Pro utilizes the technology of plasma discharge to safely optimize the surfaces of plastics, composites, rubber, glass, and metal while eliminating the need for expensive and toxic solvents. Plasma treatment alters surface energy resulting in powerful bonding with adhesives, coatings, flocking, paint and ink. Designed to treat injection/blow-molded and extruded parts and more, PlasmaDyne Pro delivers uniform treatment even to complex 3-dimensional shapes. PlasmaDyne is customizable for numerous applications and production modes.
Here are the specifics on PlasmaDyne Pro's new features and benefits:
Adjustable power level up to 600W to achieve desired treatment levels- turn up the power to raise surface energy on resistant substrates or lower the power for delicate substrates.
Color touch display for monitoring all system parameters, including troubleshooting and fault log.
Modular power supply for treating heads allows for quick, easy changes to keep production running.
Active power correction for highest efficiency and lowest operating cost.
Compact and economical: PlasmaDyne Pro systems with 3 or more treating heads are now smaller than systems previously produced and more economical as a result.
3DT's customers have come to appreciate PlasmaDyne for its highly effective surface treatment, flexibility in adapting to varied applications, thoughtful engineering and durability. In fact, there are numerous systems in the field with more than 25,000 hours of operation and they are still running strong. PlasmaDyne Pro is a proven system designed for powerful adhesion now made better.
Learn more about PlasmaDyne Pro and 3DT's full line of corona and plasma treatment systems at www.3DTLLC.com.
3DT LLC
Contact: Gaye Kiel
1-262-253-6700