3D Surface Measuring Systems use white light/confocal microscopy.
Press Release Summary: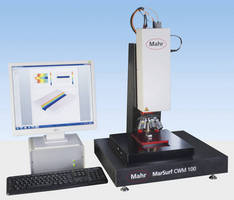 MarSurf® WM 100, which uses white light interferometer, and MarSurf CWM 100, which includes white light and confocal microscopy, are intended for measuring optical, technical, and reflecting surfaces and provide 3D topographical analysis. Both systems provide non-contact measurement of surface structures with sub-nanometer resolution. While confocal microscopy better serves measurement of dark surface structures, white light interferometry suits polished, shiny surfaces.
---
Original Press Release:

Mahr Federal Introduces Two New 3D Optical Surface Measuring Systems: The MarSurf® CWM 100 and MarSurf WM 100



-- MarSurf WM 100 offers white light interferometry; the MarSurf CWM 100 both white light and confocal microscopy

-- Both systems feature fast 3D roughness scanning and evaluation with sub-nanometer resolution

-- Ideal for optical and reflecting surfaces, and 3D topography where high information density is required.



PROVIDENCE, RI – Mahr Federal has introduced two new optical surface measuring systems designed to provide fast non-contact 3D scanning and evaluation of very small to medium sized surface details on a wide range of components, including optics. The MarSurf® WM 100 uses a white light interferometer, and the MarSurf CWM 100 includes both white light and confocal microscopy. The systems are designed for the measurement of optical, technical and reflecting surfaces, and to provide 3D topographical analysis where high information density is required, such as printed circuit boards.



"Ever higher levels of surface quality are being achieved in high precision optics and a wide range of other application areas. This has placed increased demands on non-contact measuring systems for improved resolution, speed, and measuring accuracy," said Pat Nugent, Vice President of Metrology Systems for Mahr Federal, the Mahr Group's US headquarters. "To meet these growing needs, Mahr has dedicated an entire division to R&D, custom programming, and support at its manufacturing facility in Jena, Germany, a world renowned center for optics and the home of optics pioneers like Ernst Abbe."



The MarSurf CWM 100 and WM 100 provide highly accurate, non-contact measurement of surface structures with sub-nanometer resolution. Confocal microscopy is more adept at the measurement of dark surface structures, including the edges of small components, while white light interferometry is better suited to highly polished, shiny surfaces, including glass and optical surfaces.



The white light scanning sensor in both units is designed for fast-paced 3D roughness measurement, using real time video scanning technology for excellent, high-resolution reproduction of even microscopic surface details. It comes standard with a 20x lens, with others available ranging from 2.5x to 100x, and provides resolution down to 0.1 nm.



The confocal microscope available with the CWM 100 provides measurement of both 2D and 3D parameters to international standards along selectable surface lines or areal extracts. A 50x confocal lens is included, with others available. The CNC controlled object table and Z-axis provide 100 mm traversing range.



Measurement and evaluation are provided by easy-to-use Mountains for Mahr software, which allows surface views as profile section diagrams, topography, or 3D microscopy. Data can be imported and exported in differing formats, and the MarSurf aspheric option allows fast analysis of spherical and aspherical lenses.



Mahr Federal Inc., a member of the Mahr Group, has been providing dimensional measurement solutions to fit customer application needs for over 150 years. The company manufactures and markets a wide variety of dimensional metrology equipment, from simple and easy-to-use handheld gages to technically advanced measurement systems for form, contour, surface finish and length. Mahr Federal is also well known as a producer of custom-designed gages and a provider of calibration and contract measurement services. Mahr Federal's calibration laboratories are accredited to ISO/IEC 17025:2005 NVLAP Lab Code 200605-0 (see our Scope of Accreditation for accredited calibration processes). For more information visit http://www.mahr.com



For additional information, contact:

Marketing

Mahr Federal Inc.

1144 Eddy Street

Providence RI 02905 USA

Tel: (800) 343-2050 or (401) 784-3100

Fax: (401) 784-3246

Email: information@mahr.com

Web site: http://www.mahr.com



More from Architectural & Civil Engineering Products