3D Stereoscopic System fosters detailed visualization.
Press Release Summary: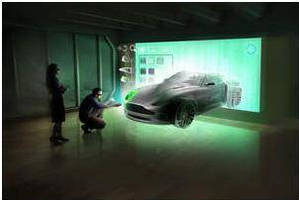 Bringing true stereo 3D to desktop with support for LCD panels, 3D Vision(TM) Pro provides reliable 3D viewing experience for large scale visualization environments so those who work with complex designs can see them in greater detail. System employs active shutter glasses and RF communication system and supports connections up to 150 ft with no cross talk, blind spots, or other transmission issues between multiple systems. Rechargeable batteries enable 20 hr continuous operation.
---
Original Press Release:

NVIDIA 3D Vision Pro Ushers in a New Dimension in Visualization



LOS ANGELES, CA - SIGRRAPH 2010 -- NVIDIA (Booth #717) announced today NVIDIA® 3D Vision(TM) Pro, a new 3D stereoscopic solution empowering engineers, designers, architects and computational chemists who work with complex 3D designs to see their work in greater detail. 3D Vision Pro solutions brings true stereo 3D back to the desktop with support for LCD panels and offers a practical way to provide a rich, reliable 3D viewing experience for large scale visualization environments like video walls and collaborative virtual environments (CAVEs).

Incorporating active shutter glasses and an innovative radio frequency (RF) communication system, 3D Vision Pro solutions delivers the highest quality stereoscopic experience and supports a wide range of use cases:

Individuals can experience 3D on LCD panels at their Quadro powered desktop and mobile workstations

Small groups can view 3D on single or multiple projectors, and

Larger groups can experience 3D on power walls or in theaters driven by NVIDIA Scalable Visualization Solutions (SVS)

3D Vision(TM) Pro provides long range connections, up to 150 feet, with no cross talk, blind spots, or other transmission issues between multiple systems. As a professional stereoscopic solution, status information is transmitted from the glasses back to the host for effective IT management.

"With the ability to provide valuable insights into complex data, 3D stereo has become one of the core elements of the modern workstation," said Jeff Brown, general manager, Professional Solutions Group, NVIDIA. "Together, 3D Vision Pro and Quadro solutions bring the highest quality and most immersive 3D experience to enterprise environments."

NVIDIA 3D Vision Pro -- A New Way of Looking at Things
Digital content creation (DCC) artists, product designers, and physicians can see their 'world' in 3D, with perspectives that are significantly richer than traditional two-dimensional views. Physicians, for example, can now view volumetric scans like ultrasound in 3D. Businesses looking to provide large scale visualizations such as popular video walls now have a reliable, enabling technology to deliver that kind of experience.

"NVIDIA is clearly a leader in the field of 3D visualization and has been working on Stereoscopic 3D technology since 1999. With their launch of a professional 3D solution, this technology can easily move beyond the entertainment viewing experience for individual consumers," said Dr. Jon Peddie, president of Jon Peddie Research. "By providing large scale visualization capabilities and remote management capabilities, NVIDIA is pioneering 3D technology for the enterprise, opening the door for professional users and large scale visualization system integrators to utilize 3D in ways not thought of before."

Key features of NVIDIA 3D Vision(TM) Pro stereoscopic solutions include:

Active shutter glasses technology that delivers a true progressive image, which preserves the highest quality texture detail and text;

Rechargeable batteries with 20 hours of continuous operation;

Wide range of panel and projector support, and;

A wide range of professional application support.

Professional applications for NVIDIA 3D Vision Pro already available
Companies such as Siemens Healthcare, Agilent, Cineform, and RTT are already embracing NVIDIA 3D Vision Pro technology as an essential element of new solutions they've recently announced:
Siemens Healthcare is now shipping its syngo.fourSight Workplace Imaging Management Solution for Obstetrics. It provides off-system 3D/4D volume manipulation and 2D image and clip review for a variety of Siemens' most powerful ultrasound platforms, assisting in communication with doctors, surgeons, and patients. It may also improve paternal-fetal bonding, and aid in treatment or pre- and post-natal surgical planning.

"Our syngo.fourSight Workplace software, combined with new NVIDIA 3D Vision Pro technology and the latest NVIDIA Quadro professional graphics solutions, makes this an even more compelling image management tool for enhanced patient throughput and department workflow in obstetrical ultrasound," said Barbara Del Prince, worldwide segment manager for OB/GYN, Siemens Healthcare. "Doctors, hospitals and imaging centers now have the most powerful, comprehensive and innovative 3D imaging solution toolset available for volume image manipulation."

Pricing and Availability
NVIDIA 3D Vision(TM) Pro stereoscopic solutions will be available in October directly from NVIDIA and from authorized resellers such as PNY Technologies at MSRPs of $349 (USD) for the glasses, and $399 (USD) for the RF transmitter hub. For more information on NVIDIA 3D Vision Pro, please visit: www.nvidia.com/object/3d-vision-professional-users.html.

Graphics professionals can experience 3D Vision Pro stereoscopic solutions at SIGGRAPH 2010 in the NVIDIA booth, #717, South Hall, at the Los Angeles Convention Center, from July 27-29, 2010. To learn more, visit: www.nvidia.com/quadro. Follow NVIDIA Quadro on YouTube, and Twitter: @NVIDIAQuadro.

About NVIDIA
NVIDIA (NASDAQ: NVDA) awakened the world to the power of computer graphics when it invented the GPU in 1999. Since then, it has consistently set new standards in visual computing with breathtaking, interactive graphics available on devices ranging from tablets and portable media players to notebooks and workstations. NVIDIA's expertise in programmable GPUs has led to breakthroughs in parallel processing which make supercomputing inexpensive and widely accessible. The company holds more than 1,100 U.S. patents, including ones covering designs and insights which are fundamental to modern computing. For more information, see www.nvidia.com.

© 2010 NVIDIA Corporation. All rights reserved. NVIDIA, the NVIDIA logo, and 3D Vision Pro, are trademarks and/or registered trademarks of NVIDIA Corporation in the U.S. and other countries. Other company and product names may be trademarks of the respective companies with which they are associated. Features, pricing, availability, and specifications are subject to change without notice.

For more information, contact:
Mark Priscaro
NVIDIA Corporation
(408) 486-2438
mpriscaro@nvidia.com

More from Electronic Components & Devices