3D Printing System targets additive manufacturing industry.
Press Release Summary: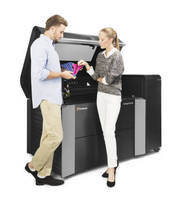 Fostering access to and adoption of multi-color and multi-material 3D printing, Objet Connex3 offers simplified design-to-3D print workflow. This unified, multi-color, multi-material offering, featuring Adobe color management and connectivity, lets users evaluate and re-design 3D models to accommodate time-sensitive deadlines. Functionality supports ability to combine materials, textures, and colors in one part. Direct quoting, validation, and previewing functions are standard.
---
Original Press Release:

Stratasys Helps Bridge Adoption Chasm in 3D Printing, Making the Power of Additive Manufacturing More Accessible and Economical



Enhanced Objet Connex3 Multi-color, Multi-Material 3D Printer Minimizes Complexity and Cost



New Stratasys Creative Colors Software, Powered by the Adobe 3D Color Print Engine, Maximizes Creativity and Ease of Use and Simplifies Design-to-3D Print Workflow



Visit Stratasys at SOLIDWORKS World 2016 – Stand #503



MINNEAPOLIS & REHOVOT, Israel--Stratasys Ltd. (Nasdaq:SSYS), the 3D printing and additive manufacturing solutions company, today unveiled the enhanced Objet Connex3, with the goal of helping the additive manufacturing industry bridge the technology adoption chasm by making the power of multi-color and multi-material 3D printing more accessible to all. Streamlining typically cumbersome processes and reversing high price-performance ratios, the Objet Connex3 contributes to the accelerated adoption of 3D printing with a simplified design-to-3D print workflow, greater ease of use, expanded color spectrum and better value. By far the market's most versatile 3D printer, the enhanced Objet Connex3 is being unveiled at SOLIDWORKS World 2016 in Dallas, Texas (Stand No. 503).



Now fortified with Adobe color management and connectivity, the Objet Connex3 offers a more complete color experience and a direct design-to-3D print workflow. Additionally, it fuses multiple systems into one unified multi-color, multi-material offering, reducing capital investments and disparate processes to fuel broad-based adoption.



According to Gartner, 3D printer sales will exceed $14.6 billion in 2019 as consumers, educational institutions and businesses ramp up their purchases. Rapid quality and performance innovations across all 3D printer technologies will drive enterprise and consumer demand.*



"Rapid quality and performance innovations across 3D printer technologies are driving both enterprise and consumer demand, with unit shipment growth rates for 3D printers increasing significantly. The 3D printer market is continuing its transformation from a niche market to a broad-based, global market of enterprises and consumers," said Pete Basiliere, Research Vice President at Gartner.**



The Economic Advantage – Multiple Systems and Processes in One 3D Printer



The Objet Connex3 empowers everyone from designers to manufacturers to easily build highly intricate parts smoothly – with the same appearance, form, and function as parts produced with conventional manufacturing. Dynamic color management and accurate preview, a wide range of advanced materials and a seamless design-to-3D print process cuts development times, reduces capital outlays and stimulates new innovation.



Customers can rapidly evaluate and swiftly re-design 3D models to accommodate time sensitive deadlines. The power to combine materials, textures, and colors in one single part means production environments are no longer hindered by conventional manufacturing restrictions. Upfront investments in various systems and space are also minimized, as are post-production capital outlays associated with painting, sanding, machining or over-molding. An open and extensible platform, the Objet Connex3 is designed to quickly accommodate ongoing functionality updates to bolster current investments.



"Looking at standard technology adoption curves, there's normally a tremendous lag between potential and reality. With 3D printing, while the promise might be great, customers are still restricted by both complexity and cost, to a degree," said Josh Claman, Chief Business Officer at Stratasys. "Stratasys is committed to enabling wide adoption of 3D printing, stimulating unprecedented creativity, new flexibility and dramatic innovation. Now, we're teaming with Adobe to take this vision additional steps forward, ensuring 3D printing is easier and more attainable. The Objet Connex3 is the only 3D printer on the market with the power to merge multiple materials and colors into one system alongside a highly streamlined and integrated workflow. With greater ease-of-use and an improved price-performance ratio, Stratasys is therefore expanding 3D printing adoption through simplification."



New Stratasys Creative Colors Software and PolyJet Photopolymer Materials



At the foundation of the newly enhanced Objet Connex3 is the Stratasys Creative Colors Software, powered by the Adobe 3D Color Print Engine. It offers vibrant gradient color palettes with an expanded color spectrum, improved textures and patterns support, and accurate color previews. It also features a streamlined and simplified design-to-3D print workflow which can be used with locally residing Objet Connex3 systems as well as with the Stratasys Direct Manufacturing parts-on-demand service. Included in the direct Adobe-Stratasys Direct Manufacturing 3D printing experience are such features as direct quoting, validation, and previewing. The Objet Connex3 is currently the market's only 3D printer series that benefits from Adobe Color Management.



The Objet Connex3 now includes two new materials. Vero PureWhite is a rigid, opaque white, producing 20 percent more brightness and UV resistance than the current VeroWhite. And, VeroCyan has been improved with a brighter, more vibrant appearance – making it ideal as a standalone material, and also for digital materials comprised of multiple materials jetted together to form new materials – also unique to the Connex3 offering.



The Objet Connex3 series includes the Objet260 Connex3, Objet350 Connex3, and Objet500 Connex3.



Stratasys is unveiling the advanced Objet Connex3 at SOLIDWORKS World 2016. Be sure to see Stratasys full range of 3D printing solutions at Booth No. 503.



*Gartner, Forecast: 3D Printers, Worldwide, 2015, Pete Basiliere, 17 September 2015

**Gartner Press Release, Gartner Says Worldwide Shipments of 3D Printers to Reach More Than 490,000



For more than 25 years, Stratasys Ltd. (NASDAQ:SSYS) has been a defining force and dominant player in 3D printing and additive manufacturing – shaping the way things are made. Headquartered in Minneapolis, Minnesota and Rehovot, Israel, the company empowers customers across a broad range of vertical markets by enabling new paradigms for design and manufacturing. The company's solutions provide customers with unmatched design freedom and manufacturing flexibility – reducing time-to-market and lowering development costs, while improving designs and communications. Stratasys subsidiaries include MakerBot and Solidscape, and the Stratasys ecosystem includes 3D printers for prototyping and production; a wide range of 3D printing materials; parts on-demand via Stratasys Direct Manufacturing; strategic consulting and professional services; and the Thingiverse and GrabCAD communities with over 5 million 3D printable files for free designs. With 3,000 employees and 800 granted or pending additive manufacturing patents, Stratasys has received more than 30 technology and leadership awards. Visit us online at: www.stratasys.com or http://blog.stratasys.com/.



Adobe, the Adobe logo and Photoshop are either registered trademarks or trademarks of Adobe Systems, Incorporated in the United States and/or other countries. Stratasys and Objet are registered trademarks, and PolyJet and Connex are trademarks of Stratasys Ltd. and/or its subsidiaries or affiliates.



Reader-contact information, please use:



USA 1-877-489-9449

Europe/Middle East/Africa +49-7229-7772-0

Asia Pacific +852 39448888

More from Electrical Equipment & Systems