3D Printer supports digital dentistry.
Press Release Summary: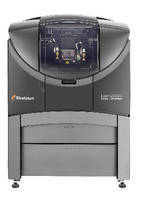 Engineered to meet demanding production needs of mid-size dental labs and mid-to-large-sized orthodontic labs, Objet Eden260VS Dental Advantage is compatible with all Stratasys dental materials, including VeroDent, VeroDentPlus, and biocompatible VeroGlaze. Soluble support technology facilitates cleaning of dental parts with fine features, such as small removable die inserts in dental models. For complete flexibility, users can switch between soluble and water jet modes.
---
Original Press Release:

Stratasys Introduces Its Most Versatile 3D Printer for Digital Dentistry



New Objet Eden260VS Dental Advantage enables faster and more cost-effective production of dental parts with delicate features and fine details



Benefits for dental labs extended due to compatibility with all Stratasys dental materials, including the newly biocompatible VeroGlaze



Minneapolis & Rehovot, Israel – Stratasys Ltd. (Nasdaq:SSYS) a leading global provider of 3D printing and additive manufacturing solutions, introduced the Objet Eden260VS Dental Advantage 3D Printer. The new system delivers expanded solutions for digital dentistry.



Engineered to meet the demanding production needs of mid-size dental labs and mid-to-large-sized orthodontic labs, the Objet Eden260VS Dental Advantage supersedes Stratasys' popular Objet Eden260V Dental Advantage platform with new capabilities.



Offering productivity enhancements and greater cost-effectiveness for users, the new 3D printer is compatible with all Stratasys dental materials – VeroDent, VeroDentPlus and VeroGlaze – and it adds a soluble support option, previously unavailable on PolyJet dental systems. Soluble support technology allows the easy cleaning of dental parts with fine features, such as small removable die inserts in dental models. Additional benefits include automated support removal, which offers further advantages for dental labs by enabling lower labor cost per part.



For complete flexibility, users have the ability to switch between soluble and water jet modes to balance low-cost automation with the occasional need for hands-on support removal.



"Stratasys is fully committed to the digital dentistry market," says Avi Cohen, director of global dental at Stratasys. "The Objet Eden260VS Dental Advantage brings supremely accurate 3D printing technology to any dental lab seeking to benefit from the future of digital dentistry and orthodontics."



VeroGlaze with full biocompatibility

Stratasys' advanced dental material, VeroGlaze, now meets the requirements of a Bio-compatible photopolymer. This material is ideal for applications requiring short-term, mucosal-membrane contact of up to 24 hours, enabling dental labs to use VeroGlaze to create veneer try-ins in precise A2 teeth color shade.



"The easy-to-use Objet Eden260VS Dental Advantage meets the needs of those dental and orthodontic labs seeking professional grade 3D printing capabilities with Stratasys' signature PolyJet speed, accuracy and consistency," says Cohen.



"As our most versatile 3D printing solution for the dental sector to date, this new 3D printer meets a broad range of application needs that demand delicate features or fine and complex details, while offering low cost of ownership."



For more information about the Objet Eden260VS Dental Advantage, contact a reseller or visit Stratasys' website. Images and spec sheets are available by visiting the Stratasys newsroom.



Stratasys Ltd. (Nasdaq:SSYS), headquartered in Minneapolis, Minnesota and Rehovot, Israel, is a leading global provider of 3D printing and additive manufacturing solutions. The company's patented FDM®, PolyJet™, and WDM™ 3D Printing technologies produce prototypes and manufactured goods directly from 3D CAD files or other 3D content. Systems include 3D printers for idea development, prototyping and direct digital manufacturing. Stratasys subsidiaries include MakerBot and Solidscape, and the company operates a digital-manufacturing service comprising RedEye, Harvest Technologies and Solid Concepts. Stratasys has more than 2,800 employees, holds over 600 granted or pending additive manufacturing patents globally, and has received more than 25 awards for its technology and leadership. Online at: www.stratasys.com or http://blog.stratasys.com



Stratasys and Objet are registered trademarks, and PolyJet, Eden, VeroDent, VeroDentPlus and VeroGlaze are trademarks of Stratasys Ltd. and/or its subsidiaries or affiliates. All other trademarks are the property of their respective owners.



Stratasys Media Contacts



Stratasys

Arita Mattsoff / Joe Hiemenz

Stratasys

Tel. +972-(0)74-745-4000 (IL)

Tel. +1-952-906-2726 (US)

arita@stratasys.com

joe.hiemenz@stratasys.com  

More from Software