3D Printer produces prototypes from digital data.
Press Release Summary: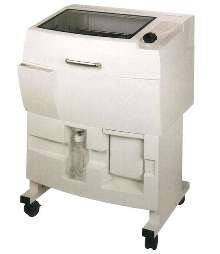 Based on Hewlett-Packard inkjet printing technology, office-compatible ZPrinter(TM) 310 System enables users to efficiently produce prototypes from 3D CAD files. Product includes simplified user interface and ZPrint software, which works with various file formats and can scale, color, and label CAD files.
---
Original Press Release:

Z Corporation Introduces New ZPrinter(TM) 310 System


System Based on Hewlett-Packard Technology is Extremely Fast, Inexpensive and Simple to Operate

Burlington, MA-Z Corporation's ZPrinter 310 System enters the 3D Printing market today as the clear solution for design engineers who need to produce prototypes quickly and inexpensively. Since its introduction, Z Corporation's well-established line of 3D Printers has led the industry in speed, versatility and low operating cost. The introduction of the ZPrinter 310 System further strengthens Z Corporation's position by providing improvements in speed and cost over its own existing entry-level system. The low price of the new System makes prototyping increasingly affordable, thereby opening the door for every design engineer to experience the advantages of using rapid prototyping in the product design process.

The ZPrinter 310 System is the first office-compatible, entry-level system based on industry leader Hewlett-Packard's inkjet printing technology, forming a powerful combination of performance and dependability. In addition to increased speed, several new features have been introduced with this new System, including a simplified user interface and a powerful new software tool, ZPrint Software, which provides users the ability to use the broadest range of file formats and the ability to scale, color and label CAD files.

Participants in the ZPrinter 310 System beta program confirm the power of the increased speed and other new features. "Reebok has been a loyal and happy Z Corp. customer for over three years. The new ZPrinter System gives us a significant improvement in both speed and ease-of-use. The straightforward software with improved interface enables us to get the machine running quickly. Z Corporation has once again produced an invaluable, reliable, and convenient tool to improve the way product development and design teams work together," reports Paul Bates, Director of Advanced Process Engineering of Reebok International Ltd.

"Z Corporation has set the standard in 3D Printing by producing systems that offer incredible speed, versatility and ease-of-use. The ZPrinter System raises the bar by strengthening each of these features at a new entry-level price point. This System is designed to make routine prototyping accessible to the large and growing population of engineers and other professionals that use 3D data in their work," explains Tom Clay, Z Corporation President.

The ZPrinter System completes the Z Corp. 3D Printer product line, which includes the Z®406 Full Color 3D Printer and the Z810 Large Format 3D Printer. In addition to the line of equipment, Z Corporation offers a range of materials to support the Printers including the new ZCast(TM) powder, used to create molds for metal casting on the Z Corp. 3D Printing Systems.

Z Corporation develops, manufactures, and markets the world's fastest 3D Printers - machines that produce physical prototypes quickly, easily, and inexpensively from computer-aided design ("CAD") and other digital data. Z Corp.'s 3D Printers are used by numerous Fortune 500 companies to make prototypes ranging from toys for market feedback to fan blades for functional testing. In the same way that conventional desktop printers provide computer users with a paper output of their documents, 3D Printers provide 3D CAD users a physical prototype of real world objects such as a mobile phone, an engine manifold, or a camera. Z Corporation's prestigious list of over 700 customers worldwide includes: Sony, Fisher-Price, Adidas, Canon, Kodak, Clorox, NASA, Lockheed Martin, Northrop Grumman, BMW, Porsche, United Technologies, Ford, DaimlerChrysler, Harvard, MIT and Yale. Please visit our web site (www.zcorp.com) or contact Marina Hatsopoulos, CEO for more information at (781) 852-5007 Sales inquiries can be made via email (sales@zcorp.com) or by phone at (781) 852-5005.

More from Agricultural & Farming Products