3D Printer produces accurate dental and orthodontic models.
Press Release Summary: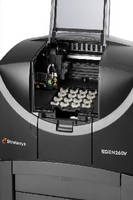 Providing access to advanced digital dentistry, Objet Eden260V Dental Advantage 3D Printer produces surgical guides and dental models in-house directly from intraoral scanner output. Unit features custom-tailored materials package and large build tray that optimizes workflow and productivity by printing more models in single build. With copier-sized footprint and quiet operation, printer offers unobtrusive operation in any lab or dental practice.
---
Original Press Release:

Stratasys Introduces 3D Printer to Provide Low Cost Entry to Advanced Digital Dentistry



New Objet Eden260V Dental Advantage 3D Printer Produces Highly Accurate Dental and Orthodontic Models, as well as Surgical Guides



3D Printer debuts at the LMT Lab Day Show in Chicago Feb. 21 - 22



Minneapolis; Rehovot, Israel – Stratasys Ltd. (Nasdaq: SSYS), a manufacturer of 3D printers and materials for personal use, prototyping and production, today introduced the Objet Eden260V Dental Advantage 3D Printer, which is easy-to-use and offers affordable access to digital dentistry. The 3D printer will be on display Feb. 21 - 22 at the LMT Lab Day Show in Chicago, in booth 203.



For dental labs seeking faster treatment and an enhanced profit model, the Objet Eden260V Dental Advantage 3D Printer produces surgical guides and dental models in-house directly from intraoral scanner output. Similarly, orthodontic labs may reduce costs by 3D printing accurate and smooth models for orthodontic appliances, which can help them increase their competitive edge.



The new 3D printer features a custom-tailored materials package and a build tray that is 20 to 40 percent larger than that of alternatives for the dental sector. This allows users to improve workflow and optimize productivity by printing more models in a single build. The 3D printer also features printing speeds up to 33 percent faster than other dental 3D printing products.



Based on Stratasys' successful Eden platform, the Objet Eden260V Dental Advantage 3D Printer harnesses Stratasys' pedigree of innovation to enable production of ultra-high resolution 3D models. These benefits are enhanced by the 3D printer's small copier-sized footprint, which makes it ideal for convenient and unobtrusive operation in any lab or dental practice.



"Stratasys continues to make digital dentistry happen and is fully committed to this market," said Avi Cohen, Director of Global Dental at Stratasys. "The Objet Eden260V Dental Advantage 3D printer is a cost-effective solution package that is designed to increase productivity and turnaround times while delivering precision prototypes and production parts."



The Objet Eden260V Dental Advantage 3D Printer Offers:

• Professional grade technology

• Consistent, accurate results

• Easy-to-use operation with fast turnaround times

• Clean, safe materials

• Small, copier-size footprint with quiet operation



More information about the Objet Eden260V Dental Advantage is available on the Stratasys website at Objet Eden260V Dental Advantage.



Media Resources available at the Stratasys Newsroom include:



• High resolution images

• White papers

• Machine specifications sheet

• Materials specifications sheet

• Case study on dental material



Stratasys Ltd. (Nasdaq: SSYS), headquartered in Minneapolis, Minn. and Rehovot, Israel, manufactures 3D printers and materials for prototyping and production. The company's patented FDM® and PolyJetTM 3D Printing technologies produce prototypes and manufactured goods directly from 3D CAD files or other 3D content. Systems include 3D printers for idea development, prototyping and direct digital manufacturing. Stratasys subsidiaries include MakerBot and Solidscape, and the company operates the RedEye digital-manufacturing service. Stratasys has more than 1700 employees, holds over 500 granted or pending additive manufacturing patents globally, and has received more than 20 awards for its technology and leadership. Online at: www.stratasys.com or http://blog.stratasys.com



Objet and Stratasys are registered trademarks and Eden, PolyJet and DentalAdvantage are trademarks of Stratasys Ltd. and or its subsidiaries or affiliates.



Attention Editors, if you publish reader-contact information, please use:

• USA   1-877-489-9449

• Europe/Middle East/Africa +49-7229-7772-0

• Asia Pacific   +852 39448888



Stratasys Media Contacts

Stratasys

Arita Mattsoff / Joe Hiemenz

Stratasys

Tel. +972-(0)74-745-4000 (IL)

Tel. +1-952-906-2726 (US)

arita@stratasys.com

joe.hiemenz@stratasys.com

More from Electrical Equipment & Systems