3D Printer makes functional models.
Press Release Summary: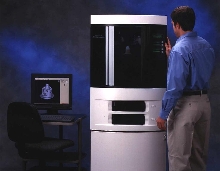 Dimension(TM) produces 3-dimensional models made from ABS plastic. Models measure up to 8 x 8 x 12 in. and can be tested for fit and function. Desktop printer measures 27 x 36 x 41 in., and can be located in any office and operated on network, allowing product design team to share modeling system. It is driven by Catalyst software, which runs on workstations using Windows NT or 2000. Options include 2 selectable surface-finishes.
---
Original Press Release:

Dimension 3D Printer To Sell For $29,900: Functional Models Now Within Reach Of Every Design Engineer


Minneapolis, February 18 - A new brand of 3D printer - Dimension(TM) - was introduced today by Stratasys (NASDAQ: SSYS). Until now, 3D printing equipment allowed testing of a model's form only. Now, designers and engineers can also test for fit and function because the system models with durable ABS plastic. Dimension's price of $29,900 makes functional testing affordable by every design engineering department.

The 3D printer is a simple-to-use desktop system, which can be located in any office and operated on a network. This makes it ideal for a product design team to share the modeling system.

Dimension is in line with what industry consultant and analyst Terry Wohlers (Wohlers Associates, Inc. Fort Collins, Colo.) calls for in his Wohlers Report 2001: "To survive and thrive. [in this industry companies must move beyond the established market to find new customers outside of the large organizations. This will require a new generation of products that cost much less and perform better than today's offerings." Dimension answers this call for a much lower price and improved performance. Besides being a good fit for departmental use in large companies, it opens the door to 3D printing for smaller companies who were previously locked out of doing modeling in-house.

"We think this is revolutionary," says product manager Mary Stanley. "Previously, 3D printing systems couldn't produce models that could be functionally tested. The name Dimension was chosen because this capability adds a new dimension to 3D printing. This machine will change the course of modeling globally. The number of users who can afford to build functional models in- house has just increased exponentially."

Dimension is driven by the simple-to-use Catalyst software, which runs on workstations using Windows NT or 2000. Dimension offers users two selectable surface-finish options. It has a model build-size of 203 x 203 x 305 mm (8 x 8 x 12 in.), and its cabinet measures 686 x 914 x 1041 mm (27 x 36 x 41 in.). The product is offered through a network of resellers and distributors. Its worldwide price of $29,900 is exclusive of other costs, such as tariffs, shipping, modeling material, installation, etc.

Dimension is a product of Stratasys, Inc., Minneapolis. Stratasys is the second largest manufacturer of rapid prototyping systems. The company's patented fused deposition modeling (FDM®) process creates solid models directly from 3D CAD files using polycarbonate, ABS plastic, wax, or other materials. Stratasys provides rapid prototyping systems for OEMs such as aerospace, automotive, military, consumer, and medical product makers. According to the 2000 Wohlers report on the state of the rapid prototyping industry, Stratasys has installed more rapid prototyping systems over the last 5 years than any other manufacturer.

Dimension and Catalyst are trademarks, and Stratasys is a registered trademark of Stratasys, Inc. Windows NT and Windows 2000 are registered trademarks of Microsoft Corp.


More from Packaging Products & Equipment