3D Desktop Milling Machine creates models from CAD data.
Press Release Summary: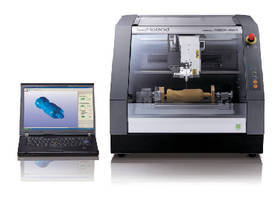 Building on Subtractive Rapid Prototyping technology, Model MDX-40A emulates actual manufacturing processes for prototypes that accurately reflect product's functionality and appearance. Base unit offers work area of 12 x 12 x 4.1 in., supports G-Code programming, and comes packaged with SRP Player CAM software. Bundled ClickMill software enables direct control of MDX-40A for surfacing, hole drilling, cutting pockets, and other finishing processes, all without accessing CAD or CAM software.
---
Original Press Release:

Roland Desktop Prototyping Device Adds Robust Performance, Versatility



Free Upgrade for Existing Roland MDX-40/40K Customers

Irvine, CA, July 1, 2009 -- Roland DGA Corp. has announced its newest 3D desktop milling machine, the MDX-40A. The MDX-40A builds on Roland's advanced Subtractive Rapid Prototyping (SRP) technology with new features, bundled software and valuable options that together make it even more versatile and easier to use.

"In recent years, 3D CAD technologies have become indispensable to manufacturers that design and develop new products," said Andrew Oransky, director of product management for Roland. "The MDX-40A emulates actual manufacturing processes for prototypes that accurately reflect both a product's functionality and its appearance. Capable of producing a smooth surface finish on a wide variety of non-proprietary materials with a lower cost of ownership, we believe the MDX-40A offers the best value in the prototyping world today."

The MDX-40A is ideal for modeling and reviewing design concepts in house, which lowers costs, shortens the product development cycle and eliminates the security risks associated with outsourcing. The new MDX-40A is compact, easy to use and comes complete with SRP Player CAM Software which allows users to go from CAD model to physical prototype quickly. The base unit offers a work area of 12" x 12" x 4.1."

New features include an all new user-friendly virtual panel and support for G-Code programming which gives the MDX-40A compatibility with popular software programs including Mastercam, EdgeCAM, SurfCAM and GibbsCAM. New bundled ClickMill software enables direct control of the MDX-40A for surfacing, hole drilling, cutting pockets and other finishing processes, all without accessing CAD or CAM software.

Free Performance Upgrade for Existing Customers

For existing MDX-40 and MDX-40K customers, Roland has announced a free performance upgrade, enabling these professionals to update their MDX-40 hardware with all the new software and firmware features and capabilities of the MDX-40A free of charge. The free upgrade includes the latest MDX-40A firmware, installer for MDX-40A Vpanel, MDX-40A Windows Driver (32-bit), and installer for MDX-40A ClickMill software.

To access the free upgrade, MDX-40/40K customers should visit rolanddga.com/mdxupgrade.

Bundled SRP Player CAM Software

The MDX-40A is packaged with Roland SRP Player CAM software, ideal for rapid prototyping and custom rapid manufacturing applications. SRP Player offers a straightforward and intuitive workflow, using illustrated prompts that guide users through each step. The result is superior parts with smooth surfaces and accurate, tight-fit precision.

Optional Upgrades

The MDX-40A can be upgraded with a new, optional ZCL-40A rotary axis unit that supports twice the cutting area of the previous model and features a new spring-loaded tool sensor for fast, accurate calibration.

The optional ZSC-1 contact scanning unit transforms the MDX-40 into a 3D touch probe scanner, accommodating reverse engineering applications. Using Roland Active Piezo Sensor technology, the MDX-40A transforms into a powerful and accurate tool for digitizing an existing part or mold for CAD applications. This technology gives the MDX-40A the ability to scan a wide variety of objects including soft objects like modeling clay. It can even scan glass or acrylic objects without scratching the surface. The ZSC-1 includes scanning software, and can also be used with optional PixForm Pro II reverse engineering software for direct import to CAD software.

Roland MDX-40A 3D Milling Machine Features:

o Compact footprint of 26.3"(W) x 29.9"(D) x 21.8"(H) (699 mm x 760 mm x 554 mm) fits on the desktop.

o No special electrical installations are required and users can start prototyping immediately upon installation.

o Roland SRP Player CAM software is included and features simple step-by-step settings for easy operation and high quality milling.

o New Roland ClickMill software is included and enables fast production and easy modifications. Users can surface materials, add holes and round edges - all without 3D CAD files.

o New virtual control panel is easy to navigate.

o Supports G-code NC programming language for both professional and educational applications.

o Optional ZCL-40A rotary axis unit supports materials up to 10.6" long by 4.7" in diameter (270mm long by 120mm in diameter), twice the capacity of Roland's previous model and large enough to mill a 16.9oz. (500ml) PET bottle.

o Optional contact scanning unit digitizes physical parts for use in reverse engineering, product design, woodworking, archiving and more.

Roland Subtractive Rapid Prototyping Technology

Subtractive Rapid Prototyping (SRP) has several advantages over additive rapid prototyping devices, also called "3D printers." SRP devices cost significantly less while producing prototypes from a wider variety of low-priced materials including ABS, acrylic, chemical woods, plaster and styrene. With SRP, professionals can design prototypes using materials that closely match the substrate of the final product, so that the integrity and mechanical attributes of the design can be reviewed. SRP produces beautiful finishes with smooth curved surfaces, allowing designers to review prototype parts that are as close as possible to production parts.

The MDX-40A is available immediately and priced at $7,995 for the base unit. Optional accessories include:

o ZCL-40A rotary 4th axis - MSRP $3,595

o ZCS-1 scan probe and software - MSRP $495

o ZDX-40 chip collection bin - MSRP $495

The new ZCL-40A rotary axis unit is also available for existing MDX-40 and MDX-40K customers at a list price of $3,595. For more information, visit www.rolanddga.com.

Roland DGA Corporation

Roland DGA Corporation and affiliated companies are pioneers in the development of innovative digital technology for creative professionals. From its inception as part of world-renowned Roland Music, Roland DGA Corp. has introduced an award-winning product line that continues to set new standards for precision, reliability and performance. Professionals worldwide rely on Roland solutions everyday in the sign, grand-format, sublimation, UV inkjet, digital graphics, vehicle graphics, fine art, photography, flexo, label, engraving and 3D modeling industries.

Headquartered in Irvine, CA, Roland DGA Corporation serves as the U.S.-based marketing, distribution and sales arm of Roland DG Corporation in Hamamatsu, Japan. Affiliated companies include Roland Corporation US in Los Angeles, CA and Rodgers Instruments LLC in Hillsboro, OR. Roland DG Corporation is listed on the Tokyo Stock Exchange.

Roland DGA is ISO 9001:2000 certified, and Roland DG is ISO 9001:2000 and 14001:2004 certified. For more information on Roland DGA products, please call (800) 542-2307 or visit the Web site at www.rolanddga.com.