3D Animation Tools, Hardware deliver virtual camera control.
Press Release Summary: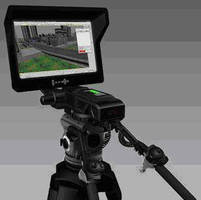 Craft Camera Tools(TM) for GCS3(TM) lets users direct real-time virtual camera controls within Autodesk® 3ds Max® and Maya® with actual camera hardware. Used for virtual cinematography, software and hardware bundle completely eliminates traditional keyframing of virtual cameras in 3D animated scenes. Users can direct animation through viewfinder of GCS3 virtual camera controller, with start-to-finish control over virtual camera of 3D animation, visual effects, and previsualization scenes.
---
Original Press Release:

Craft Animations Launches 3D Animation Tools for Gamecaster's GCS3 Virtual Camera Control Hardware



Time-saving Toolset Eliminates Need for Traditional Keyframing and Enables Real-time Cinematic Production Within Autodesk 3ds Max and Maya

GOTHENBURG, Sweden and SAN DIEGO - Jan. 7, 2009 -
Imagine the ability to direct real-time virtual camera controls within Autodesk® 3ds Max® and Maya® with actual camera hardware. It's a director's fantasy that has now become reality with the release of Craft Camera Tools(TM) for GCS3(TM), a software and hardware bundle developed by us at Craft Animations(TM) AB and Gamecaster®.

Craft Camera Tools for GCS3 offers users a superior and cost-effective solution for virtual cinematography, completely eliminating the time-consuming and costly process of traditional keyframing of virtual cameras in 3D animated scenes. This revolutionary development draws from two pioneering technologies: Craft Animation's Craft Camera Tools and Gamecaster's patented GCS3 virtual camera control hardware. Together, this custom bundle forms a completely new way of directing animation -- through the viewfinder of the GCS3 virtual camera controller itself, with start-to-finish hands-on control over the virtual camera of 3D animation, visual effects and previsualization scenes.

Craft Animations and Gamecaster have also developed an exclusive line of camera tools for use with the GCS3 virtual camera control hardware. Via the GCS3 hardware, the GCS3 FreeCam(TM) and GCS3 TripodCam(TM) provide real-time physical control of the virtual camera's pan, tilt, zoom, crane and dolly, walk-cycle and explosion motion, as well as spline control motion.

"Perfect for directors unsatisfied with traditional virtual camera keyframing practices, the Craft Camera Tools for GCS3 software and hardware bundle offers an intuitive virtual cinematography solution that bridges the gap between real-life cinematography and 3D animation," said Gamecaster President and CEO, David MacIntosh.
Professional users of Craft Camera Tools for 3ds Max and Maya have reported reduced production times by up to 90 percent during the creation of natural motion paths for 3D vehicles and cameras on-the-fly through autopilot functions, or a variety of input devices such as gamepads, joysticks and keyboards.

"Craft's Camera Tools utilizes the GCS3 virtual camera control hardware as an entirely new input device that allows real-time capture and automatic playback features, without the need to render," said Luigi Tramontana, founder and head of research for Craft Animations. "The new onset of virtual camera operation, through Craft Camera Tools for GCS3, further enables artists to overcome current limitations and workflow issues at a fraction of the cost."

Pricing and Availability
The custom Craft Camera Tools for CGS3 software and hardware bundle is now available. To request license and pricing information, please email GCS3@gamecaster.com.
Craft Director Tools, including Craft Camera Tools, Craft Vehicle Tools and Craft Accessories; are available now for Autodesk's 3ds Max and Maya, Mac and Windows platforms, and are individually priced between USD $129 and $1,199. For more information, or to purchase, please visit www.craftanimations.com.

About Gamecaster®
Gamecaster Inc., headquartered in San Diego, Calif., is a designer, manufacturer and supplier of virtual camera control technology for the film, television and video game industries, and an organizer and producer of video game tournaments and related television programs for broadcast worldwide in multiple media. For more information, please visit www.gamecaster.com

About Craft Animations(TM)
Founded in 2006 and based in Gothenburg, Sweden, Craft Animations(TM) AB is a leading developer of a new era of professional real-time 3D animation technology, Craft Director Tools(TM). Based on cutting-edge research in artificial intelligence and autonomous control systems, Craft Director Tools simulate the complex physical behavior of 3D cameras and vehicles such as helicopters, cars, airplanes, boats and motorcycles. Utilized by high-profile companies world-wide such as Digital Domain, Lockheed Martin, Digital Dimension and Toyota; Craft Director Tools streamline production, enhance realism and increase creativity for users in the visual effects, game development, forensic reconstruction and architectural design industries. For more information, please visit www.craftanimations.com.

Reader Contact:
Craft Animations AB
Stena Center 1D
S-412 92 Gothenburg, Sweden
+46 31 352-2980, info@craftanimations.com

Gamecaster, Inc.
402 West Broadway
4th Floor
San Diego, CA 92101
619-234-4263, information@gamecaster.com

More from Controls & Controllers