3675 Turnkey Leak Test Station features T-frame construction.
Press Release Summary: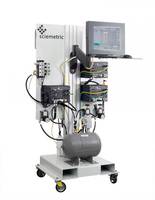 Operated by single sigPOD controller, 3675 Turnkey Station combines three 3520 series leak test units in one stand and provides fast cycle times. Featuring small and elegant footprint, device is made of 28 in.D X 33in.W X 62 in.H T-frame construction. Customized to plant requirements, geometric concerns such as leak tester and remote mounting, product is used to conduct range of leak tests and mass flow.
---
Original Press Release:
Sciemetric Releases Turnkey Leak Test Station that Cuts Costs, Boosts Efficiency
Sciemetric Instruments Inc. (www.sciemetric.com) a pioneer of Industry 4.0 smart technologies used by many global manufacturers to increase yield, improve quality and optimize manufacturing processes, has released the Model 3675, a cost-effective turnkey station to boost the speed and accuracy of leak testing.
The 3675 can combine up to three of Sciemetric's 3520 series Leak Test units in one stand, controlled by a single sigPOD controller. This turnkey station can be used to conduct a range of leak tests, including pressure decay, mass flow and more with pressure or vacuum. It can be used in production, in a lab or wherever leak testing must be conducted.
The 3675 can be customized to accommodate plant requirements, including any geometric concerns (i.e., orientation) with the leak tester and the tested part. This can include remote mounting of the 3520 Series units, pneumatic connection kits and more.
All this capability is delivered in a small and elegant footprint. Its rugged T-frame construction stands just 28"D X 33"W (at wings) X 62"H.
The 3675 adds to Sciemetric's family of leak test systems, to provide customers with greater flexibility to serve various needs and budgets.
"Discrete manufacturers across various industries now recognize the need for their leak test to deliver more value," said Mat Daniel, Sciemetric's Vice President of Operations. "They understand the role that a fast, reliable test solution plays in meeting a new standard for quality assurance, and how big data analytics collected from that test bring new insight to their decision making. But there is no 'one-size-fits-all' solution. With our Model 3675, we are giving our customers more choice and more scalability, to make the right investment, at the right time, in a better leak test."
Sciemetric's leak test systems provide both high accuracy and fast cycle times. Manufacturers can improve test quality, reliability and the speed of decision making, and often budget for fewer test stations to reduce costs. They also work with Sciemetric's QualityWorX data management software, to collect, collate and distill reams of testing data into clear, concise and insightful visual reports to further refine and optimize the leak test process.
About Sciemetric Instruments
Sciemetric (www.sciemetric.com) is a pioneer of Industry 4.0 smart technologies used by manufacturers to optimize yield, boost quality and reduce costs. The company has worked in measurement and data management for over 30 years. The breadth and depth of Sciemetric's expertise is unique, and the result of walking thousands of manufacturing lines, creating hundreds of applications and installing thousands of systems worldwide. Sciemetric's technology is used around the world to improve manufacturing quality and productivity by companies such as Ford, Hewlett-Packard, Jaguar Land Rover, Caterpillar, Honda, John Deere and Medtronic. Founded in 1981 and headquartered in Ottawa, Sciemetric has sales and support offices in Windsor ON, the U.S., the U.K., India and China.
More from Electrical Equipment & Systems