300W DC Power Supply Provides Wide Output Adjustability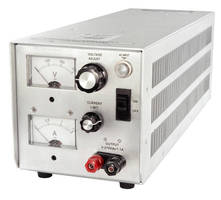 The LPS 300-A/270 is a rugged, light-weight, industrial quality laboratory power supply, designed for applications that require full output range adjustability. It is suitable for product testing, prototyping, and similar tasks in engineering labs and in the field.



The unit offers a very wide output adjustment range of 0Vdc–270Vdc, which makes it suitable for almost any circuit. Current limit is adjustable from 0.1A to 1.1A max., which allows for safe prototyping, trouble shooting and product repair. Output adjustments are made by potentiometer knobs located on front panel of the unit for easy access.



Precision calibrated analogue output voltage and current meters are located on the front panel of the unit; digital meters are available on request. Output binding post terminals, an ON/OFF switch and an output ′ON′ green LED are also located on the front panel. The unit accepts an 115Vac input voltage and has a 95-132Vac operating range.



Heavy filtering on the input and output provide low output ripple/noise. The unit meets EN55022 'Class A' EMI with wide margins. Full electronic protection includes 4300Vdc I/O isolation, inrush current limiting, rectangular current limiting with short-circuit protection and thermal shutdown with self-resetting. The internal modules are ruggedized and conformal coated to provide protection from shock, vibration and moisture.



Natural air convection provides sufficient cooling for operation over a 0°C to 50°C temperature range without de-rating. Extended temperature ranges are also available.



This compact, bench-top design measures 3U (132) x 132 x 401 mm and weighs only 3.6 kg (8 lb).

Related