300 KW High Frequency Solid State Welder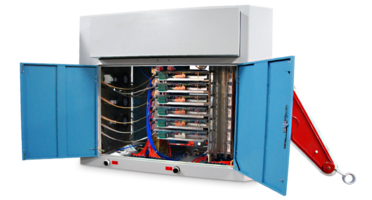 Schedule a Visit to Perrysburg, Ohio to inspect this welder: (419) 872-2364
Specifications:
Primary Volts: 480V, 3PH, 60 Hz
Primary Power: 450 KVA
Output Power: 300 KW
Output Frequency: 300 KHz
Machine Efficiency: 82% - 85%
Equipped With:
Main Transformer
Rectifier Cabinet
Operator Cabinet
Output Cabinet
Heat Exchanger
200 - 800 KW Welders Available!
We offer a welder maintenance and training class at our facility for new Sanfeng welder customers. Next class in August 2017. Inquire with your sales person if interested. Space is limited, reservations are required.
Request A Quote: http://www.utubeonline.com/product/new-high-frequency-solid-state-welder/
UNIVERSAL TUBE & ROLLFORM EQUIPMENT CORPORATION
419-872-2364
More from Portable Tools