3 W SMT LED offers luminous flux up to 100 lumens at 350 mA.
Press Release Summary: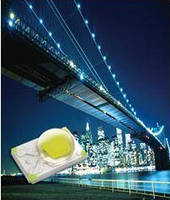 Featuring 170 lumens when driving at 700 mA, Shuen series High Power LED has Color Rendering Index of 75 and 90 depending on lighting applications. Compact, SMT unit includes electrically isolated thermal pad, along with ESD protection up to 8 kV. Typical view angle is 120° and RoHS-compliant units also include moisture sensitivity level of 1 as well as binning parameters including brightness, forward voltage, wavelength, and chromaticity.
---
Original Press Release:

Everlight Introduces the New 3W Shuen LED Family Offering Slim Package, High Power, and High Luminosity for Advanced Lighting Applications



Taipei - Adding to the performance and popularity of Everlight's 1W Shuen series High Power LED with a luminous flux up to 100 lm at 350 mA, Everlight Electronics Co. Ltd. (TSE:2393) announces the brand new 3W Shuen High Power LED with up to 170 lm when driving at 700 mA.

Both 1W and 3W Shuen packages are surface-mount high-power devices offering high brightness in a compact and slim form factor, making them suitable for different lighting applications including general illumination, flash, spot, signal, industrial and commercial lighting. The thermal pad of both the 1W and 3W Shuen Series are electrically isolated providing for improved thermal and electrical characteristics. It is well known that the benefits of LED devices are their environmentally friendly nature, energy savings, reliability and long life. All Shuen families exhibit these advantages while providing high efficiency luminous output.

The Shuen series not only offers slim size and high luminosity, but provides customers the flexibility of various CRI (Color Rendering Index) with 75 and 90 depending on their lighting applications. Within the global Solid-State Lighting market, Everlight strives to conform to all environmental initiatives. The Shuen series meets the European Union directives on the Restriction of Hazardous Substances in electronic equipment - namely the RoHS directive. All materials and processes of the Shuen series are free of form lead, mercury, cadmium, hexavalent, polybrominated biphenyls (PBB) or polybrominated diphenyl ethers (PBDE).

Everlight is also promoting closer working relationships between our R&D, Sales and Marketing teams to better meet and exceed our customer's expectations in both product offering and technology perspectives. The Shuen LED series and its many technical features are a result of fostering a closer relationship between these teams.

Features

o Small package with high efficiency

o Typical view angle of 120°

o ESD protection up to 8KV

o Soldering method: SMT

o Binning Parameters: Brightness, Forward Voltage, Wavelength and Chromaticity

o Moisture Sensitivity Level: 1

o RoHS compliant

o Matches ANSI binning

o Electrically isolated thermal pad

Applications

o General Lighting

o Decorative and Entertainment Lighting

o Commercial Lighting

o Industrial Lighting

o Signal and Symbol Luminaries

Mass Production: Second Quarter of 2010

Everlight Introduces the New 3W Shuen LED Family

Source: Everlight

About Everlight Electronics Co. Ltd.

Everlight Electronics Co., Ltd. was founded in 1983 in Taipei, Taiwan. Playing a critical role in the formation of the global LED industry, the company is rapidly ascending to become a leading supplier due to its dedication to certification, R&D, production, quality, marketing and global customer service. Everlight provides a diverse product portfolio consisting of High Power LEDs, Lamps, SMD LEDs, LED Lighting Modules, Digital Displays, Optocouplers and Infrared Components for various applications. Today, Everlight is a global company with over 5,300 employees based in China, Hong Kong, Japan, Korea, Singapore, Malaysia, India, Germany, Sweden, U.S., and Canada.

Please visit us at www.everlight.com

Press Contact: pr@everlight.com

More from Cleaning Products & Equipment