3-in-1 Lock Set offer 18 different positions to accommodate couplers.
Press Release Summary: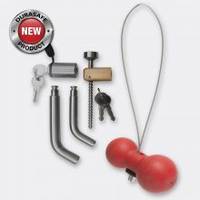 3-in-1 Lock Set acts as a receiver, a coupler and a lock. Unit is compatible to coupler sizes ranging from 1/2 in. to 3-3/8 in. and the lock can be adjusted with increments of 1/8 of inch. The receiver is constructed from stainless steel with ball-bearing design and comes with internal pin O-ring, a key shutter and moisture and dust cap. Product operates in conjunction with universal coupler lock for keeping parked trailer secured.
---
Original Press Release:
DuraSafe Introduces Receiver / Coupler / Off-Vehicle Coupler Lock Set - New Product Offers Convenience and Security
Leading lock and towing device company, DuraSafe, has released a 3-in-1 lock set designed to improve the user experience for those towing and storing trailers. This unique device may be employed whether or not a trailer unit is attached to a vehicle. The set combines DuraSafe's classic security with added convenience.
New Lock Set Primary Features
The new product offers users a variety of benefits. It can be used in multiple capacities, providing much advantage to those who own or need to transport a trailer.
This is an overview of the primary device features that many users will appreciate:
3-in-1 Capacity: The lock serves as a receiver, a coupler, and a lock when a trailer is off-vehicle. These three functions eliminate the hassle of purchasing and using three separate devices for one trailer. They also require one less set of keys than users would otherwise need to use and carry.
Maximum Versatility: This system is compatible with all coupler sizes on the market. That includes sizes from a ½ inch all the way through 3-3/8 inches. The lock set is capable of 18 different positions, so any coupler on the market may be accommodated.
Optimal Fit: In addition to fitting any coupler size presently sold, DuraSafe's lock can be adjusted in increments of 1/8 of an inch. This allows for a snug fit, and the product cannot be easily cut as other coupler locks might be.
Superior Strength: The receiver lock is made from stainless steel and it comprises a three-ball-bearing design. This promotes greater security and strength than competing devices.
Device Protection: The receiver lock has been created for protection from debris and moisture. Its protective features include an internal pin O-ring, a key shutter made from stainless steel, and a moisture and dust cap.
Advanced Coupler Ball Accessory: This accessory was designed for compatibility with couplers of all sizes. It operates in conjunction with a universal coupler lock in order to ensure that parked trailers remain secure. This is accomplished via blocking the coupler cavity, as well as locking the coupler latch.
Maintaining High Standards for DuraSafe Customers
As company spokesperson, Cathy Frantz points out, this new product will be "a game changer for those who own or transport trailers. DuraSafe has consistently maintained the highest standards for our customers since 2003, and we are committed to maintaining our reputation of excellence."
This 3-in-1 lock set promises to accommodate a broad variety of trailers, providing users with maximum convenience as well as the high level of security and overall quality for which DuraSafe is known.
About the Company: DuraSafe is an industry leader and continues to develop locks and towing products with a spirit of innovation. For any queries, please feel free to call Cathy Frantz at (866) 544-5615. Interested parties may also fill out the company's online contact (https://durasafelocks.com/contact-us/) form for more information.
More from Electrical Equipment & Systems