3-in-1 Conveyor System features removable bump turns.
Press Release Summary: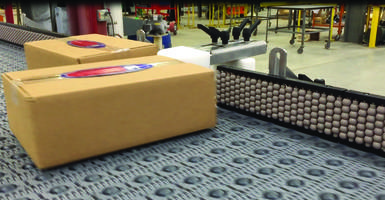 3-in-1 Conveyor System is designed with Activated Roller Belt (ARB), bump turns. System provides 90° rotation of bundled cartons. Unit's beaded guide rails offers continuous movement during maneuvering through two adjustable bump turns that can be removed and repositioned on same stainless steel mount. The ARB of the system edge aligns the product without any adjustment.
---
Original Press Release:
3-in-1 Conveyor Technology Including ARB, Removable Bump Turn and Beaded Guiderails
Multi-Conveyor (www.multi-conveyor.com) - Multi-Conveyor recently built a 3-in-1 system to do a 90° degree rotation of bundled cartons of a dry snack food ... a conveyor trifecta for this customer!
The systems includes ARB (Activated Roller Belt) technology provided by Intralox; along with beaded guide rails for continuous movement while maneuvering through two manually adjustable bump turn assemblies in the process.
This conveyor rotates the cartons to work in conjunction with the customer's pre-printed brand and identification label applications.
The bump turn is manually removed and repositioned on the same stainless steel mount - then reapplied as needed.
The ARB conveyor will "edge align" all products without adjustment.
Multi-Conveyor customers choose their construction options from painted mild steel to washdown, sanitary, stainless steel as required.
About Multi-Conveyor
Multi-Conveyor has successfully produced standard and custom conveyor solutions for End-Users, Integrators, Engineering firms, OEM's and Contract Packagers across multiple markets and industries for over two decades. Specializing in conveyors that assist in packaging food, beverage, dairy, pharmaceutical, chemical, industrial, automotive and material handling industries, our customers report they select Multi-Conveyor for concept/design, engineering skills, high-quality product, best value and prompt delivery schedules.
Multi-Conveyor excels in stainless steel and mild steel construction conveyors for table top chains, modular plastic belts, and fabric belting, are licensed to build Intralox ARB solutions, and provide many types of elevators, lowerators and accumulators. We also design and provide the control devices, systems and panels with our in-house control department.
For more information about Multi-Conveyor, or to get a quote on your next project, call toll-free 1-800-236-7960, E-mail info@multi-conveyor.com or visit www.multi-conveyor.com.
Contact:
Cheryl Miller
Director of Marketing
Multi-Conveyor LLC
P O Box 10
Winneconne, WI 54986
1-800-236-7960
Contact This Company Download Spec Sheet
Related