2XXX Series MIL-DTL Corrosion & Adhesion Performance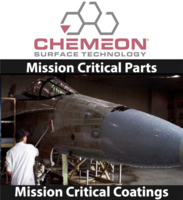 The Next-Gen Conversion Coating/Chemfilm, eTCP® is Ready to Ship and Ready to Use
MINDEN, NV, Dec. 29, 2022 – CHEMEON® eTCP, continues to expand international availability of eTCP® for use on aluminum and other light metals.
OEMs and Prime Contractors need process shop facilities and captive shops around the world to provide consistent success in achieving MIL-DTL corrosion and adhesion performance on 2XXX aluminum alloy series.
The patented next-generation eTCP process provides the solution for consistent 2024/2XXX series performance. In addition, CHEMEON eTCP retains electrical conductivity with a visual verification that your parts are coated and protected.
Ted Ventresca, President and COO of CHEMEON said "The Department of Defense (DoD), industry, OEM, prime contractors, regulatory agencies across the E.U. & U.S., and state organizations like the California Air Resource Board (CARB) continue to phase out use of the known carcinogen hexavalent chrome. The eTCP process is recognized by our industry partners as the 'recipe for success' on 2024 aluminum, making eTCP as the best performing and safe MIL-DTL alternative to hex chrome (Cr6.)"
As a HUBZone-certified company, CHEMEON's mission to provide innovation, services, and manufacturing of part-critical specified chemical coatings has resulted in federal contracts, research funding, and purchasing from the U.S. Army, Navy, Air Force, Marines, and related OEM/prime contractors.
For prime contractors and government agencies looking to team with HUBZone partners, CHEMEON's certification checks the box while delivering environmentally safe, qualified product listed (QPL) chemistry that supports sustainability goals.
About CHEMEON
CHEMEON Surface Technology is the only HubZone certified Tier 1 global supplier of advanced, environmentally responsible, surface engineering solutions, including patented MIL-SPEC chemistry CHEMEON eTCP® Touch-Up Pen, RTU (Ready To Use) and Powder, MIL-DTL-81706B conversion coating and anodic seal that provides a distinct color for visual verification. CHEMEON offers a full line of anodizing pre and post-treatments, dyes, including CHEMEON Deep Black MLW, Trivalent Chromium TCP-HF suite of chemistries, custom R&D, consulting, and university-level metal surface finishing training. https://chemeon.com
For Immediate Release, Contact:
Shay Davis
+1-775-301-5724
[email protected]