Library Return/Sorting System is completely automated.
Press Release Summary: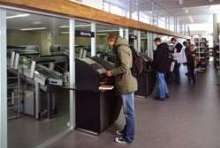 Library Mate(TM) return and sortation system accepts library materials up to 16 x 12 x 4 in. weighing up to 11 lb and has integral bar code/RFID scanner. Cross-belt design ensures gentle handling of delicate and mixed materials such as books, magazines, CDs, and DVDs, while maintaining sorting capacity of up to 4,500 items/hr. Unit can empty into compact sorter, which sorts and stacks materials into Crisplant Ergo Carts(TM) with proper orientation.
---
Original Press Release:

FKI Logistex® Crisplant® Introduces the Library Mate(TM) and the Crisplant Compact Sorter


Solution offers innovative self-service automation for the return of library materials

(Frederick, MD: December 29, 2003) FKI Logistex® Crisplant® (www.fkilogistex.com/crisplantinc), a global leader in automated material flow and sortation systems, introduces the Library Mate(TM), a new automatic return and sortation system for libraries. The Library Mate improves service for library patrons and makes work easier for library staff by automating and simplifying the return process. Since library patrons can return holdings to the Library Mate around the clock, it also frees patrons from the restrictions of library hours; prevents long lines for patrons returning in the library; and enables library staff to accomplish more customer-service-oriented tasks.

Library Mate can benefit any library, regardless of size, number of lendings or number of holdings. In small libraries, the system can function as a stand-alone unit. Connected to the Crisplant Compact Sorter in large library settings, it provides a valuable total self-service solution. User-friendly and ergonomically designed, Library Mate accepts any library materials smaller than 16" long by 12" wide by 4" tall (300mm x 400mm x 100mm) weighing less than 11 pounds (5 kg).

The Compact Sorter is the ideal solution for sorting different library materials like books, videotapes, magazines, cassettes, CDs, and DVDs. Its unique cross-belt design ensures gentle handling of delicate and mixed materials, while maintaining a high sorting capacity of up to 4500 items per hour.

The Compact Sorter is able to sort and stack materials directly into Crisplant Ergo Carts(TM), providing an ergonomic solution that saves library staff from having to load return carts before taking return holdings to their appropriate shelf. The Compact Sorter stacks materials in the correct orientation on the Ergo Cart so that titles can be read without having to turn the materials. At the shelves, the stacker shelf of the Ergo Cart(TM) is electronically lifted so that stacked materials are positioned at a comfortable working height.

Compact and flexible, the Crisplant Compact Sorter has small overall dimensions and requires a minimum footprint. It can be set up and installed in a short period of time, adapted to buildings and spaces with even the most complex layouts, and configured for mounting on the floor, ceiling or wall. The Compact Sorter can also convey items at various levels-horizontally, vertically, or over and under.

"Crisplant's library systems offer the flexibility, capacity and reliability that libraries need to improve customer service for their patrons and workflow for their staffs," says Tom Pinkin, Crisplant business development manager. "Combining Library Mates, Ergo Carts, and the Compact Sorter gives libraries across the world the ability to streamline their operations and better serve their communities."

A library system that employs Library Mates, Ergo Carts, and the Compact Sorter can be fully integrated with virtually any library management system (LMS), and supervised via an existing library Intranet. The system will enable staff using any network-connected workstation to log in on the self-service system home page to supervise the system. The system can also be interfaced and managed through wireless PDAs. Library Mate supports standard protocols in most library systems, such as SIP2 and Z39.70.

When a patron returns materials using Library Mate, Library Mate scans the item bar code or RFID (radio frequency identification) tag (or both), sending the data to the LMS. This registers the patron's lending as complete, and tells Library Mate to print out a return receipt.

Crisplant's library system solution is designed to meet future library demands. Built with a modular structure, it ensures that the library system can be expanded if required, when the number of Library Mates and/or sort destinations may need to be increased.

In Aarhus, Denmark

An example of a recent Crisplant library installation is a Crisplant Europe solution for the main library in Aarhus, Denmark. The system at the Aarhus library consists of four customized Library Mate self-service check-in stations and a Crisplant Compact Sorter with 71 sort destinations. Each Library Mate check-in station has a capacity of 600 to 900 items per hour, giving the total system a capacity in excess of 2000 items per hour.

When a patron returns loaned materials using one of the Library Mates, each returned item is automatically directed to the Compact Sorter and discharged automatically into one of the 71 sort destinations. The overall capacity of the sorter is up to 4500 items per hour, dependent upon the number of inductions being used.

With the implementation of the Crisplant library solution in Aarhus, library patrons no longer have to queue up at service points for returning loaned materials. The self-service solution enables patrons to easily return books, videotapes, CDs, DVDs, and magazines, while minimizing the library staff's labor-intensive and repetitive handling of returned materials. Crisplant's solution allows Aarhus library staff to spend more time servicing and guiding patrons.

The Aarhus system is scalable, with the option of connecting multiple Library Mates to the same sorter. The new system can also be extended so the sorter can operate at more than one level in a library building, and is designed to discharge materials into any destination, e.g., tote boxes or directly into Crisplant Ergo Carts.

About FKI Logistex Crisplant

FKI Logistex Crisplant®, a member company of FKI Logistex®, is a global leader in automated material flow and sortation systems. Crisplant designs and manufactures advanced sortation and baggage handling systems, and has more than 800 sortation systems installed across the globe for leading airports, postal centers, warehouses, and distribution centers. The US headquarters for Crisplant are located at 4612 Navistar Drive, Frederick MD 21703. World locations for Crisplant include Denmark, the United Kingdom, South Africa, France, Germany, Singapore, and China. For sales and marketing information, contact Tom Pinkin, business development manager, by phone at (240) 629-1413 or by e-mail at [email protected]. Visit FKI Logistex Crisplant on the web at http://www.fkilogistex.com/crisplantinc.

About FKI Logistex

FKI Logistex® (www.fkilogistex.com) is a leading supplier of integrated material handling solutions for distribution, baggage handling, freight, parcel, and manufacturing applications. FKI Logistex supplies its customers with an integrated set of leading edge technologies in high-speed sortation, conveyor systems, carousels, palletizing, paperless pick products, AS/RS, controls, order processing software, warehouse control systems, and total materials handling automation.

FKI Logistex comprises the industry's most successful and recognized brands, including Alvey Systems, Cleco Systems, Crisplant, FKI Logistex a/s, Automation Division (incorporating Buschman Operations, Mathews Operations, and CMP Corporation), Integration Division, IoSystems, Real Time Solutions, and White Systems. For more information on any of the FKI Logistex member companies, click here to visit the FKI Logistex media center. For sales information, contact FKI Logistex, 1500 Lebanon Road, Danville, KY 40422, by phone at (877) 935-4564 or by e-mail at [email protected].