Heat Pump Water Heater offer simplified installation.
Press Release Summary: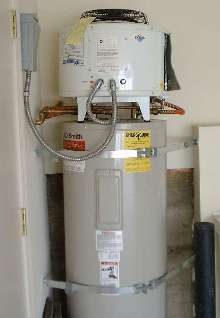 Available for new or existing home water heaters, environmentally sound E-Tech R106K-5 extracts low grade heat from ambient air, upgrades it, then transfers it as energy to heat water up to 130°F. Air passing through unit is cooled and dehumidified and can be used for cooling basements, garages, and workshops. Water heater-mounted units require indoor location with 1,000 ft³ min space, adequate ventilation, and temperature range of 46 to 110°F.
---
Original Press Release:
Energy Efficient, Environmentally Sound E-Tech Residential (R106K-5) Heat Pump Water Heaters Easier to Install & Service
Norcross, GA. - E-Tech, the only heat pump water heating brand with 25 years of continuous improvement and innovation behind products, announces an updated and improved R106K-5 residential heat pump water heater. "With minor improvements, we have upgraded the E-Tech R106K units with attention to having the units easier to install, maintain or service," commented George Wyers, President of AERS. "The R106K water heater-mounted units have been a popular unit for over 15 years, and we have modified the units so the contractor can install these units quickly and easily." The E-Tech R106K-5 model can be used on new water heaters upon installation by a plumbing contractor or added to existing home water heaters to improve water heating efficiencies and save money on energy costs. As more and more homeowners seek means of reducing the costs of heating hot water, heat pump water heaters become a viable solution. The E-Tech R106K-5 extracts low grade heat from ambient air, upgrades it and then transfers it as energy to heat water up to 130° F. The homeowner's utility bill is reduced because considerably more energy is transferred as heat to the water than is used to operate the heat pump. Air passing through the unit is cooled and dehumidified and can be used as FREE cooling and dehumidification for basements, enclosed garages and workshops. For a successful R106K-5 installation, these parameters are necessary: indoor installation in a location with a minimum of 1000 cubic feet; adequate ventilation for the unit; and indoor temperature range of minimum 46° F and maximum 110° F. More information on the E-Tech R106K-5 residential units can be found at: aeretech.com. Now available for shipment, contact Applied Energy Recovery Systems at: sales@aeretech.com. Press release contact: Connie Jones, cjones@aeretech.com
Related