2857 Series Empty Housing Offers Unlimited Customization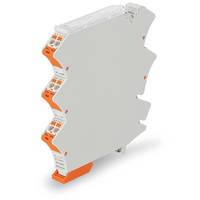 WAGO offers you freedom of choice with the flexible, modular 2857 series empty housing. Configurable connections with pluggable picoMAX® connectors and economical marking offers a low cost option for customization or low volume projects.



2857 Series Empty Housing benefits:



• Pre-assembled unit saves installation time

• High flexibility via custom configuration of connection levels

• Various marking options available



"Package" your custom design projects easily in the 2857 series' economical, robust, reliable housing.



WAGO is the leader in spring pressure connection technology that eliminates loose wires resulting from vibration and temperature cycling, while providing highly reliable, corrosion-resistant and maintenance-free connections.



For additional information, visit www.wago.us. Contact WAGO at 1-800-DIN-RAIL or info.us@wago.com.



More from Construction Equipment and Supplies