25W Ku-Band High Power Transceiver offers complete airborne Satcom solution.
Press Release Summary: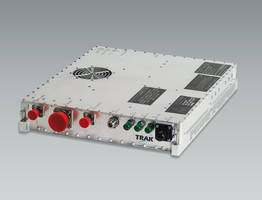 Integrating GaN SSPA, upconverters, downconverters and digital control technology, 25W Ku-Band High Power Transceiver features optional vibration insensitive OCXO. With built-in SSPA protection against high VSWR loads, 25W HPT transmits from 13.75 to 14.5GHz from 950 to 1700MHz IF frequency with < 1.0 dB gain variation over 36MHz band. Providing frequency block down conversion from 10.7 to 11.7GHz to low band IF 950-1950MHz, product is operated in -15°C to +55°C.
---
Original Press Release:
Compact 25W Ku-Band Transceiver with GaN SSPA for Commercial Airborne Applications
TRAK Microwave, a Microwave brand of Smiths Interconnect, has announced the addition of the Ku-Band High Power Transceiver to its wide range of product offerings.
TRAK's new HPT functions as a complete airborne Satcom solution, integrating the necessary GaN SSPA, upconverters, downconverters, and digital control technology to offer a highly modular yet easily maintained system complete with advanced interoperability features and multiple Built-in-Test (BIT) functions. Leveraging the higher maximum channel temperature limit of GaN devices, along with built-in SSPA protection against high VSWR loads, the 25W HPT system offers extremely high standard reliability and stability. For applications that require additional commercial air transport use assurance, an optional vibration insensitive OCXO installed on a vibration isolation platform is available. The HPT can transmit from 13.75 to 14.5 GHz from an IF frequency of 950 to 1700 MHz with a gain variation of less than 1.0 dB over any 36 MHz band and provides the frequency block down conversion from 10.7 to 11.7 GHz to the low band IF of 950-1950 MHz or from 11.7 to 12.75 GHz to the high band IF of 1100-2150 MHz. The Receive bands are selectable with commands over the Ethernet bus.
Ideally suited and qualified for commercial airborne environments, this type-N RF TX/RX and TNC IF TX/RX compact and highly integrated device operates from -15°C to +55°C. For more information, visit the TRAK Product Library to download a full datasheet on the Ku-Band High Power Transceiver 25W.
About TRAK
TRAK Microwave Corporation is committed to our customers' success in deploying the most advanced radar, electronic warfare systems, satellite communications, data links, public safety radio networks, and more. Our RF/Microwave component and subsystem heritage is deep, and we employ the most capable technical, operational, and management personnel in the industry. Our commitment to excellence is proven-with over fifty-five years of success in commercial communications, homeland security platforms, and military programs.
About Smiths Microwave
Smiths Microwave, www.smithsmicrowave.com is a leading provider of components, sub-assemblies, antennas and system solutions, primarily for defense, aerospace, and telecom applications, that test, filter, protect, and process high-frequency signals for wireless communication networks. As a family of brands, Kaelus, RadioWaves, TECOM, TRAK, Transtector, PolyPhaser, LORCH, TRAK Limited, Millitech, EMC Technology, and Florida RF Labs provide exacting solutions for antenna systems for the military and commercial aerospace, transceivers, frequency sources, timing systems, component applications and a wide range of innovative RF, Microwave and surge protection solutions for the wireless telecommunications sector.
Alongside Smiths Connectors and Smiths Power, Smiths Microwave is part of the Smiths Interconnect division of Smiths Group, www.smiths.com, a global leader in applying advanced technologies for markets in threat and contraband detection, energy, medical devices, communications and engineered components. Smiths Group employs more than 23,500 people in over 50 countries.
For more information contact:
Mark Cressman
Smiths Microwave Subsystems
813-901-7200
More from Architectural & Civil Engineering Products