Shim Kits help maintain gap settings on crushers.
Press Release Summary: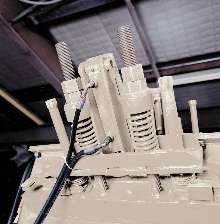 Hydraulic Shim Kits include lift bridge weldments and hydraulic cylinders for both front and rear apron assemblies. Three-spool control valve actuates housing cylinders or apron cylinders. Counterbalance valves on both cylinders are provided for added safety should one hydraulic line fail. All necessary hoses and fittings are included.
---
Original Press Release:

Stedman Introduces Hydraulic Shim Kits That Help Maintain Gap Settings


Aurora, IN - Stedman's new hydraulic shim kits help maintain the desired gap settings on Stedman crushers, reducing costly downtime and maintenance and maximizing production. The hydraulic shim kits also eliminate wrench turning to raise or lower apron assembly.

Everything needed to keep impactors crushing to size is included in the kits. Included are lift bridge weldments for both front and rear apron assemblies, hydraulic cylinders for both front and rear apron assemblies, 3-spool control valve to actuate housing cylinders or apron cylinders, and shims, counterbalance valves on both cylinders for added safety should one of the hydraulic lines fail, and all necessary hydraulic hoses and fittings.

Adding or removing the shims to maintain optimum size product production is easy. When apron gaps need adjusting due to wear, simply perform lockout/tag procedures and raise the apron using the hydraulic cylinder on the lift bridge. Lift bridge is controlled by a 3-spool control valve mounted on the housing. Then unlock the shim fasteners, add or remove the needed shims to reach or maintain the needed gap setting, and lock shim fasteners. Lower the hydraulic cylinder and return to crushing.

Stedman is the originator of the cage mill and is a leading manufacturer of size reduction equipment for the aggregate, chemical, fertilizer, brick and clay, and recycling industries, among others. It offers a full range of high efficiency impactors, cage mills, hammer mills, crushers, and lumpbreakers and fine grinders for crushing, pulverizing, fine grinding, blending or delumping tough, wet and dry materials. Stedman markets their products worldwide and has installations throughout the world.

For more information, contact Joe Bennett at Stedman, 129 Franklin Street, P.O. Box 299, Aurora, IN 47001. Telephone: 800-262-5401 or 812-926-0038 or fax: 812-926-3482. Website: www.stedman-machine.com.

More from Software