2017 Color Trends Added as a Library in Plastics Color's Mobile App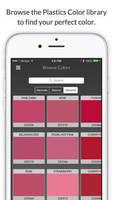 CHICAGO, IL — Plastics Color Corporation is proud to announce its library, inspired by the 2017 Color Trends, has been added to the Colors Now app. The color trends are forecasted two years in advance by the Color Marketing Group (CMG), and are highly sought-after as color is one of the most influential factors impacting product design and consumer buying trends.



As a member of the CMG, the premier international association for color design professionals, Plastics Color meets with other color professionals, marketers and consultants to discuss emerging trends and innovations throughout the world of color — including the 2017 color trends. CMG's International Summit was held in San Diego, CA this November. The 2017 colors inspired by the trends revealed during this summit are currently available in the Colors Now app.



The Colors Now app is a design tool that provides libraries of colors for users as well as the ability to scan colors in conjunction with the Node+chroma from Variable Technology. Variable Technology is a long-time partner of Plastics Color.



Through the development of the Node+chroma device, Variable Technology revolutionized modern color management systems and users of the Colors Now app can experience all the industry-leading features including the ability to exact match to colors, store palletes, request color chips and samples, as well as gain access to Plastics Color's color library.



While hundreds of colors are readily available in the Colors Now app, the 2017 inspired colors are available to Plastics Color customers. Colors Now users are encouraged to email their sales rep or email colorsnow@plasticscolor.com, to gain access to this exclusive new library with the 2017 color trends..



For more information on enhancing your brand through the power of color, or to obtain more insight on how the Colors Now app can help simplify the color selection process, visit PlasticsColor.com today. Download Colors Now in the app store.



About Plastics Color Corporation

Established in 1964, Plastics Color Corporation is an industry leader in colorants, compounds, additive masterbatches, and custom polymer technologies. With an enduring commitment to new and innovative products, Plastics Color's North Carolina based Solution Center is the foundation to many state-of-the-art products that go on to lead an extensive range of markets. With manufacturing facilities in California, Illinois, North Carolina, and China, Plastics Color continues to deliver top of the line products backed by the accreditation of the American Association for Laboratory Accreditation. For more information, visit www.PlasticsColor.com, follow on Twitter at twitter.com/plasticscolor, or LinkedIn at linkedin.com/company/plastics-color-corporation.







More from Explosives, Armaments, and Weaponry