2012 Four Hills Tournament on ALOSLIDE® ICE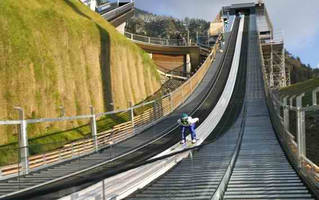 The next event of the world famous Four Hills Tournament in Oberstdorf will take place at the end of December 2012 - for the first time on a new track. SC Oberstdorf is optimizing and modernizing its famous large jump "HS 137" in the Erdinger Arena. This year, those responsible for the event are not leaving anything to chance: They are relying on ALOSLIDE® ICE from CeramTec, the world's only FIS-certified inrun track system.

The old track was dismantled and the inrun made ready for the new requirements in early May, and the specialists from CeramTec-ETEC installed the new inrun track system with integrated cooling and irrigation system on the ski jump this June.

The system comprises a one-track inrun, which can very quickly be switched from summer to winter operation or vice versa. A cooling and irrigation system integrated below the inrun track makes it possible to create ice quickly and easily without the need for additional ice or snow. In the summer the ski jumpers slide on ceramic nubs - with properties that are just as good as ice in the winter.

ALOSLIDE® ICE is a trusted and proven constant for SC Oberstdorf: The "HS 106" ski jump for young ski jumpers was rebuilt in 2011 equipped with this same ceramic inrun track system. Since late last year it has been open for competitive and training events and has met all the expectations of athletes and officials.

CeramTec-ETEC has also made a name for itself globally, constructing the Olympic ski jumps in Turin, Almaty (Asian Winter Olympics) and Sochi as well as the ski jumps in Klingenthal (site of a ski jumping event and FIS Team tour), Bischofshofen and Bad Freienwalde.


More from Computer Hardware & Peripherals