1U MicroTCA Platform is designed to meet NEBS.
Press Release Summary: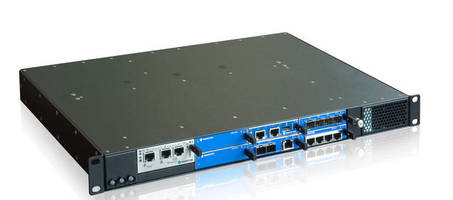 Featuring 8-fan front-to-back cooling set-up, and integrated 360 W -48 V or -60 V power supply, 12.5 in. deep rack-mountable platform, Kontron OM6061 offers 6 mid-size AdvancedMC(TM) slots for multiple system configurations. Carrier grade telecommunication platform features high speed backplane and supports next generation AdvancedMC(TM) modules with PCIe Gen2 and XAUI.
---
Original Press Release:

Kontron Unveils New 1U MicroTCA(TM) Platform for Carrier Environments



Kontron OM6061 pre-validated with processor, storage and Cavium Networks®-based OCTEON® Plus packet processor AMC modules

Santa Clara/CA, Eching/Germany, October 28, 2009 - Kontron today introduced the Kontron OM6061, a carrier grade 1U MicroTCA(TM) platform ideal for a wide assortment of Central Office and service aggregation point applications, ranging from SIP Servers, SSL Offload, and content-aware processing and QoS over Ethernet.

Featuring an 8-fan front-to-back cooling set-up, an integrated 360W -48V or -60V power supply and a cost optimized MCH module within in a 1U, 12.5" deep rack-mountable platform, the MicroTCA(TM) platform Kontron OM6061 offers six mid-size AdvancedMC(TM) slots for multiple system configurations. The carrier grade telecommunication platform is designed to meet NEBS and has been fully pre-tested with the cost optimized MicroTCA(TM) Carrier Hub Kontron AM4901, and the AdvancedMC(TM) modules for storage (Kontron AM4510), CPU (Kontron AM4010), and network processing (Kontron AM4204). The three remaining slots are optionally open for a redundant AMC configuration or additional AMC modules.

"This is a highly flexible platform for a 1U MicroTCA(TM) form factor," said Marc Leclaire, Kontron AdvancedMC(TM) and MicroTCA(TM) product manager. "We received a good deal of early interest and already won a major design win for a final application used in a low-cost, non-redundant NEBS environment. Also of interest to equipment vendors is that the Kontron OM6061 can be populated with up to six 10 GbE Cavium-based AMC modules Kontron AM4220 for sustained traffic of up to 120 Gb/s. Moreover, this carrier grade telecommunication platform features a high speed backplane and can already support next generation AdvancedMC(TM) modules with PCIe Gen2 and XAUI."

Kontron AM4204

The AdvancedMC(TM) Module Kontron AM4204 features 4 x 1GbE ports to the front and software configurable interfaces to the Fabric side (PCIe, 4x 1GbE or XAUI). Designed with Cavium Networks®' OCTEON® Plus 5650 Network Service Processor it provides high-density, high-bandwidth serial I/O for networking. Also it is optimized for layer 4 to 7 data and security processing, targeting 3G/4G BTS, RNC, xGSN and Media Gateways.

Kontron AM4010

The Kontron AM4010 is a highly integrated mid-size processor AdvancedMC(TM) module and is based on the Intel® Core(TM) Duo and the Intel® Core(TM)2 Duo processor, complemented by the Intel® 3100 server-class chipset. It includes up to 4 GB registered Double Data Rate (DDR2) memory.

Kontron AM4510

The Kontron AM4510 SATA storage AdvancedMC(TM) module uses Intel's® leading X25-E Solid State Drive for native Serial Advanced Technology Attachment (SATA) and achieves enhanced performance, reliability, ruggedness and power savings.

Kontron AM4901

The Kontron AM4901 MCH contains an unmanaged BCM5396 Ethernet switch for a simplified design and improved costs (lower cost components, no switch controller, no software for switch controller). It provides one GbE uplink on the front, and provides six GbE ports at the card edge connector (Fabric [A]) for the AdvancedMC slots, plus 1x GbE for the MCH update channel.

The new Kontron OM6061 is in full production with samples available immediately.

More information on the Kontron OM6061 at:
http://www.kontron.com/products/systems+and+platforms/microtca+integrated+platforms/om6061.html

More information on AdvancedMC(TM): www.kontron.com/amc/

More information on MicroTCA(TM): www.kontron.com/microtca/

About Kontron

Kontron designs and manufactures embedded and communications standards-based, rugged COTS and custom solutions for OEMs, systems integrators, and application providers in a variety of markets. Kontron engineering and manufacturing facilities, located throughout Europe, North America, and Asia-Pacific, work together with streamlined global sales and support services to help customers reduce their time-to-market and gain a competitive advantage. Kontron's diverse product portfolio includes: boards & mezzanines, Computer-on-Modules, HMIs & displays, systems & platforms, and rugged & custom capabilities. Kontron is a Premier member of the Intel® Embedded Alliance and has been a VDC Platinum Vendor for Embedded Computer Boards 5 years running. Kontron is listed on the German TecDAX stock exchange under the symbol "KBC".

For more information, please visit: www.kontron.com

Contact

EMEA

Norbert Hauser

Kontron

Tel: +49 (8341) 803-0

norbert.hauser@kontron.com

Americas/APAC
Richard Pugnier

Kontron

Tel:+1 (858) 623-3006

richard.pugnier@us.kontron.com

More from Electronic Components & Devices