18V LXT Lithium-Ion Brushless Impact Driver comes as cordless tool system.
Press Release Summary: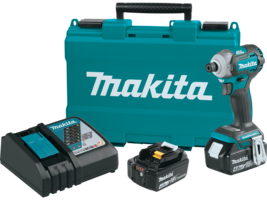 Available in XDT12M kit with two 18V LXT 4.0Ah batteries and Rapid Optimum Charger and as tools in XDT12Z kit, Brushless Impact Driver charges quickly in less time. Compatible with18V LXT Lithium-Ion batteries, unit delivers 127 CFM and 96" water lift. Featuring Quick-shift Mode, unit minimizes screw thread stripping, A-mode eliminates cross threading. The system incorporates Pre-Filter Bag, Damper Filter and Main Filter.
---
Original Press Release:
Makita 18v Cordless/Corded Vacuum Meets Demand for Convenient Clean-Ups and Dust Extraction
Makita® has released a versatile new vacuum that offers both corded and cordless operation with the new 18V X2 LXT® Lithium-Ion (36V) Cordless/Corded 2.1 Gallon HEPA Filter Dry Vacuum, model XCV04Z (tool only).
In cordless mode the XCV04Z is powered by two 18V Lithium-Ion batteries, giving users the extended run-time of 36V but without leaving the 18V battery platform. It also meets the increasing demand for dust extraction with an efficient three-stage HEPA filtration system.
Two 18V Batteries for Extended Run Time
"Makita 18 Volt X2 technology gives contractors the ultimate in performance and convenience," said Carlos Quintana, Senior Product Manager, Cordless Products, Makita USA. "Instead of managing multiple battery platforms or investing in much larger and heavier higher-voltage batteries, Makita 18V X2 tools allow contractors to use two 18V batteries to take on the most demanding applications. The 18 Volt batteries used in the XCV04Z are the same 18 Volt batteries a contractor will use on their Makita drill, impact driver, and over 150 other Makita cordless tools. No other cordless tool platform can offer this."
In addition to the new XCV04Z, Makita offers ten 18V X2 LXT® (36V) tools powered by two 18V batteries including a dual slide compound miter saw, rotary hammer, circular saw, recipro saw, hedge trimmer, string trimmer, chain saw, two blowers, and a backpack HEPA vacuum.
World's Largest Cordless Tool System
The XCV04Z is part of Makita's expanding 18V Lithium-Ion system. With over 150 tools it is the world's largest cordless tool system powered by 18V Lithium-Ion slide-style batteries. Makita 18V Lithium-Ion batteries have the fastest charge times in their categories, so they spend more time working and less time sitting on the charger.
Cordless or Corded Operation
The XCV04Z offers corded or cordless operation for maximum convenience:
In cordless operation using two 18V 5.0Ah batteries (sold separately), the XCV04Z delivers up to 65 minutes of continuous run time on low setting and 30 minutes on high setting, with 74 CFM and 36" water lift of suction.
In corded operation, the vacuum delivers 127 CFM and 96" water lift.
3-Stage HEPA Filtration System
Filter replacement is the number one maintenance cost associated with jobsite vacuums, and the 3-stage filtration system is engineered for efficient cleaning and extended main filter life. The system consists of a Pre-Filter Bag (captures larger dust particulates), Damper Filter (captures much smaller particulates) and Main Filter (captures micro particles). All three filter components are included.
Performance and Ease-of-Use
The XCV04Z is loaded with performance and ease-of-use features. The 19.7' power cord combined with the anti-static hoses (1-1/2" x 8' or 1" x 11-1/2', both included) provide extended reach for fast clean-ups. The oversize on-off switch, variable speed control dial, and dual L.E.D. battery indicators are clearly visible and easily accessible on the top and front of the vacuum. Additional features include quick-release metal latches, large rubber bumper, and rear casters with locking levers.
Lower Noise, Less Weight
The precision lightweight motor components and efficient air ducting produce a vacuum weight of only 21.8 lbs. (with batteries, sold separately). The motor chamber is constructed of sound-absorbing materials for lower noise: only 75 dB(A) in corded mode and only 64 dB(A) in cordless.
Star Protection Computer Controls™
For improved tool performance and extended battery life, the XCV04Z features Star Protection Computer Controls™. Star Protection is communication technology that allows the Star Protection-equipped tool and battery to exchange data in real time and monitor conditions during use to protect against overloading, over-discharging and overheating. For increased versatility, the XCV04Z can be powered by Makita 18V LXT® and Compact Lithium-Ion batteries with the star symbol on the battery indicating Star Protection inside.
Specifications
Model Number                                                                    XCV04Z
Name                                                                                18V X2 LXT® Lithium-Ion (36V)
                                                                                        Cordless/Corded 2.1 Gallon HEPA Dry Vacuum, tool only
Battery                                                                              2x 18V LXT® Lithium-Ion
AMPS (120V)                                                                     9.2
Air Flow Rate                                                                      127 CFM
Static Water Lift                                                                  96"
HEPA Filters Available                                                         Yes
Gross Container Size                                                            2.1 gal.
Working Sound Level                                                            64 dB(A)
Continuous Use (max, in minutes)                                          65 min.
Cord Length (ft.)                                                                    19'
Net Weight (w/batteries)                                                         21.8 lbs.
Power Type                                                                         Corded and Cordless Operation
Includes:                                                                             Vacuum, Straight Tube, Curved Tube, Crevice Tool, Anti-Static
                                                                                          Hose (1-1/2" x 8'), HEPA Filter, Plastic Disposal Bag 10/pk,
                                                                                          Damper Filter, Floor Nozzle, Anti-static Hose
                                                                                            (1" x 11'), (2) Tool Cuff Adapter, Pre-Filter
Three Year Limited Warranty
Each Makita Lithium-Ion Power Tool, Battery and Charger is warranted to be free of defects from workmanship and materials for the period of THREE YEARS from the date of original purchase with exceptions. For more on this Limited 3-Year Warranty, go to makitatools.com
About Makita®
Makita® is a worldwide manufacturer of industrial quality power tools and outdoor power equipment, and offers a wide range of industrial accessories. Makita utilizes leading-edge technology and innovation to engineer tools that are more compact with less weight yet deliver industrial power and results. Makita's extensive line of cordless lithium-ion tools includes 18V LXT® Brushless Lithium-Ion, 18V Compact Lithium-Ion, and 12V max Lithium-Ion. Other best-in-class products include rotary and demolition hammers and saws equipped with Anti-Vibration Technology (AVT®), MM4® 4-Stroke engine power equipment, Super Joint System - SJS® grinders, miter saws engineered with Deep and Exact Cutting Technology (DXT®), Impact GOLD®, the New Gold Standard in Impact Driving, and more. Makita U.S.A., Inc. is located in La Mirada, California, and operates an extensive distribution network located throughout the U.S. For more information, call 800/4-MAKITA (800/462-5482) or go to makitatools.com.
More from Communication Systems & Equipment