180° Open Chute Drum Discharging System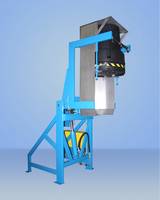 Patented Control Link™ Rotation System provides 180° drum rotation for maximum product discharge. System features a custom drum retention system for various size drums, and a two-speed hydraulic system for smooth, controlled inversion.
Pour cone constructed of 304 stainless steel, and frame constructed of heavy-duty carbon steel. Momentary contact controls housed in a carbon steel NEMA 12 enclosure. Hydraulic system includes a hydraulic oil cooler for continuous duty operation and cooler performance in hotter environmental conditions. Systems are custom designed to meet your application requirements. Call (800) 836-7068 for more information.
CONTACT:
Robert Meirick,
Sales/Marketing Manager
PHONE: (269) 673-2125
EMAIL: sales@materialtransfer.com
WEBSITE: www.materialtransfer.com
Material Transfer - Material Handling Equipment & Integrated Systems
1214 Lincoln Road
PO Box 218,
Allegan, MI 49010
Phone 800.836.7068
Fax 269.673.4883
More from HVAC