18/3-22/2 AWM2661 Power Cords are 0.26 in. thin.
Press Release Summary: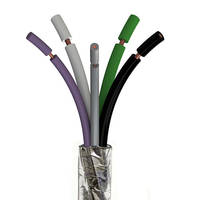 Available in bulk, blunt-cut to length, stripped one or both ends, with white, black, or clear braid outer jacket, 18/3-22/2 AWM2661 Power Cords utilize three 18 gauge power conductors and two 22 gauge control wires. 300-volt power cord comes in 0.26 in. thickness with 18 gauge control wires.
---
Original Press Release:
New Thin 5-Conductor Power Cord Excites Lighting Industry
Griplock® Systems introduces a new thin 5-conductor power cord to its product lineup, the 18/3-22/2 AWM2661. What makes this power cord so appealing is its unique construction. This 300-volt power cord utilizes 3 power conductors that are 18 gauge and 2 control wires that are 22 gauge. This allows the power cord to be thinner than other 5-conductor cords – only 0.26 inches.
In 2016, Griplock® Systems introduced a 600-volt 18/5 AWM power cord with a diameter of only 0.37 inches. It quickly became a hot commodity with customers – an excitement that's expected to be amplified with the introduction of the new 18/3-22/2 cord.
"In most situations 300 volts is all that's needed and having 18-gauge control wires isn't necessary either," states Ryan Kwast, VP of Sales and Engineering. "But, what our customers are looking for are minimalist components, so as not to detract from their fixtures. We already have customers lining up to get a hold of this power cord."
The new 18/3-22/2 power cord is available in bulk, blunt-cut to length, or stripped one or both ends, with a white, black, or clear braid outer jacket.
Griplock® Systems has been a market leader in the cable suspension industry since 1992. They are committed to providing high-quality, high-performance, and budget-conscious products, backed by outstanding customer service and engineering expertise. State-of-the-art components and elegant, functional designs, combined with rigorous quality control are the keys to their success. Safety, quality and style. This is The Art of Suspension®.
Contact
Beau Pillet
Griplock Systems, LLC
1132 Mark Ave
Carpinteria, CA 93013
Griplock Systems
Marketing Manager
https://www.griplocksystems.com