Hydraulic Power Unit meets low noise specification.
Press Release Summary: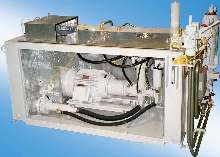 Low Noise Hydraulic Power Unit features structure-borne sound decoupling with precisely tuned shock mounts and damping absorption materials so that no significant sound is emitted. Leak free, 100-500 gal, U-shaped reservoir is mounted inside the horizontally or vertically oriented motor pump group. Space is provided inside unit for add-ons such as an oil/water heat exchanger, pressure filters, and valves.
---
Original Press Release:

Rexroth Low Noise Hydraulic Power Unit Meets Low Noise Specs Using Limited Space


Company will display the Low Noise Power Unit at IMTS 2002,
September 4-11, 2002 at McCormick Place in Chicago, Booth #4222

The Low Noise Hydraulic Power Unit from the Industrial Hydraulics division of Bosch Rexroth meets stringent noise specifications while also providing a compact, easy access for maintenance, and clean operation with no external oil leakage. This unique design concept with its integrated enclosure is available in a horizontal and vertical motor pump group arrangement.

The unit's reservoir, ranging in size from 100 to 500 gallons, is U-shaped with the motor pump group mounted inside using vibration isolation. Structure-borne sound decoupling with precisely tuned shock mounts and damping absorption materials mean no significant sound emission from the system, and a specially designed sound-absorbing top and front cover further contributes to the unusually low acoustic values.

Specifically designed for Rexroth pumps, the "pulsation damper" nearly eliminates transmission of fluid-borne noise into the machine. The customer connections terminate at the bulkhead with ball valves, and an increased tank wall surface provides effective de-aeration of the hydraulic fluid.

In addition to the benefits of its compact size, the Low Noise Power Unit also provides space inside for add-ons such as an oil/water heat exchanger, pressure filters, and valves. Accumulator assemblies and utility skids, such as electrical,
pneumatic and lubrication panels, can be mounted on the reservoir walls or on a separate base-frame extension.

With regard to cooling, heat can be removed by using very compact, efficient brazed plate-type heat exchangers. The heat exchanger can be mounted inside the enclosure. The operating time for cooling depends on the amount of heat to be dissipated (machine cycle time, complexity of the hydraulic circuit, etc.) and on the water inlet temperature.

Bosch Rexroth Corporation, a merger of Bosch Automation Technology and Rexroth, is a wholly owned subsidiary of Robert Bosch GmbH. In the year 2001 the separate companies had total revenues of approximately $3.42 billion (3.86 billion Euros) and a worldwide total of around 26,000 employees. Divisions include Industrial Hydraulics, Electric Drives and Controls, Linear Motion and Assembly Technologies, Pneumatics, Service Automation and Mobile Hydraulics. Bosch Rexroth - The Drive & Control Company - offers comprehensive solutions for drives and motion
control in 80 countries around the world.

Please Direct Reader Inquiries To:
Aaron Weida
Bosch Rexroth Corporation
Industrial Hydraulics
2315 City Line Road
Lehigh Valley, PA 18002-5407
Telephone (610) 694-8298
Fax (610) 694-8339
aaron.weida@boschrexroth-us.com