13 Solar Bus Stop Lights for Sun Metro Transit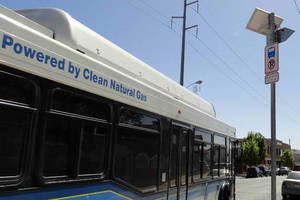 When Sun Metro Transit in El Paso, TX wanted to provide lighting for their bus stops in areas with little or no lighting, they purchased and installed SEPCO solar power bus stop lighting systems through Texas based Environmental Lighting Service (http://www.elslight.com/).

SEPCO's ultra-reliable, vandal resistant solar bus stop lighting (http://www.sepco-solarlighting.com/solar-shelter-building-mailbox-lighting/) systems are programmed to operate from dusk to dawn and feature a high intensity LED light fixture that effectively illuminates bus stop areas to provide a better sense of security, improved visibility and aid in the prevention of buses passing up riders at night.

Better still, SEPCO solar power bus stop lighting systems mount directly to existing bus stop poles-which saved Sun Metro Transit (http://www.elpasotexas.gov/sunmetro/) the additional cost of installing new bus stop poles. The system's unique design offers the benefit of mounting the solar module south towards the sun (as required) and the flexibility of mounting and orienting the light fixture in whatever direction is needed to illuminate the bus stop area.

Best of all, because SEPCO bus stop lighting systems operate purely on off-grid solar power, Sun Metro was able to completely eliminate the cost of extending the AC-power grid to the bus stop poles.

About SEPCO: SEPCO's technical and engineering experience in the industry positions SEPCO as a leader in the solar lighting market by offering multiple technologies to adapt to customer's and environmental needs of each project. SEPCO can use lighting technologies such as Light Emitting Diode (LED), Compact Fluorescent (CFL), Induction, High Pressure Sodium, Low Pressure Sodium, HID, and Plasma. SEPCO is also able to meet high light level requirements for roadways, parking lots, and security applications with various operating profiles through wireless controls. SEPCO's Texas Rep is Solar Wind Technologies (http://www.solarwindtec.com/).


More from Architectural & Civil Engineering Products