12176 Modules are compatible with LEDiL Stradella Lens.
Press Release Summary: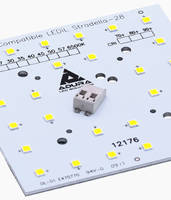 Featuring 3 step MacAdam Binning, 12176 Modules come with MCPCB for maximum heat dissipation. Designed with poke-in input and output connectors, modules are offered with CRI options of 70+, 80+ and 90+ in 2000 K-650 K CCT color temperature. Operating in 500-700 mA current with typical input voltage of 20-24 V, units deliver efficiency of up to 215 lpw at board level. Measuring 81 mm x 81 mm size, module's Tight LED pitch eliminates pixilation.
---
Original Press Release:
12176 Module
ADURA LED Solutions is changing the way LED Lighting is transforming. Adura is a manufacturer of all types of LED modules and industry's highest thermally conductive SinkPADTM Printed Circuit Boards. As a leading global provider of efficient lighting Module solutions, ADURA LED Solutions today empowers its customers and business partners to become more successful by making their lighting Fixture product highly efficient, running cooler and offering longer life. Our component lighting solutions deliver superior quality, highest reliability, and impressive energy savings to provide our customers with a strong competitive edge.
At Adura, we have designed LED Lighting Modules that are high performance, running Cool, energy efficient, cost effective and easy to use and integrate into any type of LED Lighting Fixtures. The company continuously brings new innovations and state-of-the art lighting solutions to market.
12176 MODULE
Efficiency of up ot 215 lpw at board Level (25 C), 5000K with 80+ CRI
High Performance 3030 Packaged LED with MCPCB for maximan heat dissipation
Tight LED pitch eliminates pixilation, no complex lens or optics required
3 step MacAdam Binning
Wide Choice of color temperatures : CCT (2000K-650K)
CRI options of 70+, 80+, 90+
Enables Simple fixture design upgrades
Input and output Poke-in connectors for easy wiring
Compatible with LEDiL STRADELLA LENS
PRODUCT SPECIFICATION
Part Number                            12176-XXX-3030-XX
Ordering Number                     See Specification for specific CCT / CRI part numbers
Number of LEDs                      28 LEDs (4p7s)
Type of LED                             3030 Packaged LED
CCT                                         2000K, 2200K, 2500K, 2700K, 3000K, 3500K, 4000K, 5000K, 5700K, 6500K
CRI                                          70+, 80+, 90+
Operating Current (IF)             500-700 mA
Maximum Current (IF)             700-800 mA
Typical Input Voltage (Vdc)      20-24V
Board Shape                           SQUARE
Board Size (mm)                      3.189" x3.189" (81mm x 81 mm)
More from Construction Equipment and Supplies