110V DC Battery or AC Off-Grid Powered NAS Storage Servers..Best Renewable Energy Computing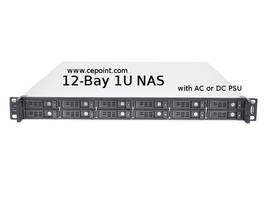 Data storage 12-bay 1U rackmount NAS Server operates on 110 DC battery or low AC power
for Renewable energy, electrical off-grid and low power 24/7 operations environment
In the aftermath of U.S Puerto Rico's Hurricane Maria disaster, most IT infrastructure managers and planners are beginning to scratch their heads and wondering if there is anything they could have done differently to ensure the disastrous consequences of power loss on their IT data centers were minimized to say the least.
Organizations and enterprises that require 24/7 critical uptime for their services now do realize the importance of renewable energy, offgrid electrical power availability and use of low power equipment and battery back-up computing systems. Reliable energy saving 48V, 72V DC and 110V DC Battery powered (Network Attached Server) NAS Servers such as Cepoint 's high capacity, RS-1700 series 110V DC battery powered 12-bay 1U NAS storage server solution for 24 x 7 NAS data storage or general purpose computing usage comes into place.
Companies like Siemens Energy systems has been using Cepoint's battery powered servers in the middle east to power infrastructures required to operate 24/7, 365-days in environments without Electrical grids by running those systems powered with DC batteries or low power renewable energy alternatives as solar or generators.
This Intel Xeon Data storage or general purpose computing servers in pizza box size is capable of holding up to 48TB raw capacity, runs off AC or battery DC power supply. Since Cepoint launched the high capacity, RS-1700 series 36V110V DC powered 12-bay 1U NAS storage server for 24 x 7 NAS data storage for off-shore unstable or low power grid data centers, the company has expanded the line to include other versions in 2U or 4U with high processing power and storage. All versions can run in Windows or Linux operating software environment.
Enterprise Entry-Level 1U 12-bay NAS Storage solution
The company's battery DC powered 1U 12-bay NAS with various custom capacity configurations, is also ideal for use in clustered or compact off-shore or mobile data-center where standard AC power grid is not available or constant.
The TELCO carrier grade, NEB's compliant platform RS-1700 series storage system scales to thousands of Terabyte capacity and expands beyond initial configuration without taking down the system. A fully configured unit is easily scalable without any hassle of down time or delayed deployment. This system is very suitable for other Real-Time mission-critical applications in Telecommunications environment, such as large scale VoIP, Telephony and campus wide data warehouse.
Multiple RAID Capable
These systems supports RAID levels 0, 1, 1EE 3,10, 5, 5EE, 6, 50, 60, and with all its equipped features, RS-1700 is deployable as a NAS, iSCSI SAN or Fibre-channel SAN or stripped down JBOD or DAS (Direct Attached Storage) depending on required application needs and environment, thus making R1700 a configurable or re-configurable Unified Enterprise storage solution. This saves enterprises and their IT departments thousands of dollars and deployment headaches otherwise would have been incurred or encountered in tinkering or trying to adapter different or varied solutions from multiple vendors.
About Cepoint Networks, LLC.
Cepoint Networks, LLC is a systems integration, and high performance computing manufacturer, specializing in high availability storage, applied computing products, and services for enterprise applications, telephony and telecommunications industry, Government, utilities and industrial markets. The Company's other products and services include; turnkey rack mount faulttolerant cluster servers for mission-critical applications, servers, video-on-demand, telephony systems for VoIP (Voice-over IP), video/audio conferencing, real-time IRIG-B or GPS time-stamp digital recorders, message logging and telecasting and, rugged portable lunch box workstations for field applications, network engineers and technicians. 1U, 2U, 3U and 4U NEMA and NEB's compliant servers and workstations for data acquisition, audio and video data archives or realtime video/data streaming. Company's website is www.cepoint.net for storage product info. Or www.cepoint.com for Industrial, scientific and telecom products.
For more information contact: sales@cepoint.com or Ph: (603)557-7464 or Contact: sales@cepoint.com Cepoint Networks, LLC 
More from Software