10HP Direct Drive Pump Added to GlobalMAX Product Line
Press Release Summary: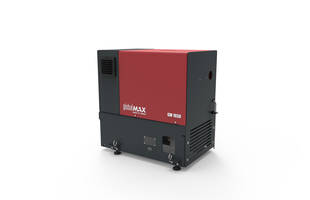 The GlobalMAX  JetMachining Centers from OMAX Corporation has been updated with the option to add a 10HP direct drive pump. The new pump offers  a 30,000 psi pressure to the cutting nozzle capability. It is designed for those who need both an economical and industrial abrasive waterjet, such as educators, job shops, fabricators and manufacturers.
---
Original Press Release:
OMAX Adds 10HP Direct Drive Pump as an Option for GlobalMAX Product Line
KENT, Wash., August 15th, 2018 – OMAX® Corporation expands its GlobalMAX® pump options with a 10HP pump for the GlobalMAX JetMachining® Centers. Designed for educators, job shops, fabricators, and manufacturers who need an economical, industrial abrasive waterjet, this new pump delivers 30,000 psi pressure to the cutting nozzle. The GlobalMAX product line with the 10HP pump offers all the benefits customers come to expect from OMAX: innovative drive systems, proven direct drive pump technology, Intelli-MAX® software, as well as superior customer service.
The combination GlobalMAX with the 10HP pump is priced as low as the mid $50,000s USD – or under $1000 USD per month financed. Owners are able to upgrade to a larger horsepower pump if their needs outgrow the 10HP unit.
The GlobalMAX JetMachining Centers can cut almost any material in any thickness up to 5 in. (0.125 m) without any heat-affected zone (HAZ). A number of compatible accessories are available including a terrain follower, a pneumatic drill, and a bulk garnet feed hopper.
The GlobalMAX 10HP pump is manufactured in Kent, Washington, USA to ensure quality and component compatibility. International OMAX distributors are certified installers and servicers and are trained at OMAX headquarters.
For more information contact OMAX sales team at https://www.omax.com/buy.
About OMAX Corporation
Based in Kent, Washington, OMAX Corporation is the leading manufacturer of advanced abrasive waterjet systems. Owner of the OMAX, MAXIEM, GlobalMAX, and ProtoMAX brands, the company designs waterjet systems that feature intuitive software, efficient pump technology, and a wide range of accessories. The ISO 9001:2015 certified company designs, manufactures, assembles and tests components as a complete system to ensure optimum performance. The company also has the most comprehensive service and support network in the waterjet industry to keep its customers ahead of the manufacturing curve. For more information, visit OMAX.com or connect with the company on Facebook, Twitter, LinkedIn and YouTube.