0171 Series Terminal Block is equipped with LED light.
Press Release Summary: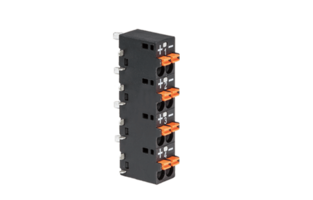 0171 Series Terminal Block offers rated voltage of 150V & 300V, rated current of 8A & 15A and pitch of 9.0mm & 12.5mm. The housing thickness of the terminal blocks are available in 10mm and 12mm which can accommodate 2-rows of 1.5 mm² wire entry and 2-rows of 2.5 mm² I/O respectively. The LED light at each connection point will on when current flows through the wire.
---
Original Press Release:
Dinkle Light Guiding PID I/O Terminal Block – 0171
Dinkle International announces the availability of the 0171 series terminal block, which are a part of the Dinkle Push-In-Design (PID) family. This design improves upon traditional screw style terminals regards to efficiency, ease of use and space savings. Connecting a solid wire with the push-in-design takes only 3.6 seconds, compared to 13.5 seconds for a screw connection. A flexible wire takes just 4.1 seconds to connect, while a screw terminal takes 14.4 seconds. A flexible wired with a ferrule takes only 3.7 seconds to connect, compared to 13.2 seconds for a screw terminal. PID saves 75% of wiring time, increasing work efficiency.
An LED at each connection point is on when current is flowing through the wire, LED light pipes are integral to the terminal block assemblies; they ensure each LED is clearly visible. This indication provides quick visual confirmation of active connections and is very useful for troubleshooting
The ultra-thin housing thickness of 10mm is able to accommodate 2-rows of 1.5 mm² wire entry. The housing thickness of 12mm is able to accommodate 2-rows of 2.5 mm² I/O wire entry
Customization is available with housing colors, push buttons and printing content to identify different functions of the circuit.
Rated voltage 300V; rated current 8A /15A, Pitch3.5 mm/4.8 mm, pin pitch 9.00 mm/12.5 mm
Both 9.00 mm & 12.5 mm pitch are available; options for rated voltage are available in 150V & 300V and rated current available in 8A &15A.
More from Architectural & Civil Engineering Products